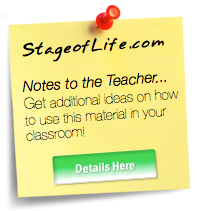 When do we ever have time to stop and think up cool ideas to implement in our classes?
Harrisburg, PA (PRWEB) September 30, 2013
As part of its expanding teen writing resources, Pennsylvania-based educational start-up, StageofLife.com, added "Notes to the Teacher" tips to give secondary Language Arts teachers and homeschooling parents practical ways to implement its writing prompts, teen statistics, and other rich content in meaningful ways in the classroom.
Developed by Rebecca Thiegs, Education Consultant and Co-Founder of the start-up company, the teacher notes were designed as a way to give teachers and parents tips in how they can use ideas and essays found on StageofLife.com to encourage teens to write more.
"For 15 years as a secondary Language Arts teacher, I sat through countless in-service days, professional development workshops, writing institutes, writing workshops, and English department meetings, with one overriding thought: give me an idea I can use tomorrow with my class," said Thiegs,
"When do we ever have time to stop and think up cool ideas to implement in our classes?!" she added.
StageofLife.com hopes this new teacher tool will help address this need.
Users will find the yellow "Notes to the Teacher" graphic throughout the website on web pages which are tied to specific tips, ideas, and suggestions for how educators can use the free writing resource content on that particular page as prompts or mini-lessons in class.
Classroom tips are ready now for use with the following content areas on StageofLife.com:

Thiegs and her team plan to introduce four new Notes to the Teacher writing tips each month.
In addition to the new writing exercise tips and ideas, Stage of Life mapped its literacy, writing, and reading features across the website to the Common Core Language Arts standards. For educators looking to map writing and reading components of Language Arts curriculum to the Common Core, they can find resources on Stage of Life at too.
To read all of the Notes to the Teacher ideas, visit StageofLife.com and visit the Educational Resources page.
# # #
StageofLife.com is a privately held start-up company founded in Dallastown, PA in 2009. While based in Pennsylvania, the free educational writing resource welcomes nearly half a million teen and teacher visitors each school year from across the US and is home to 5+ million uploaded words and thousands of submitted essays. It is becoming the world's largest collection of multi-generational stories.