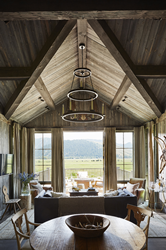 All the furnishings, the fabrics, the art … come together layer upon layer upon layer and create an ultimate coziness.
JACKSON HOLE, Wyo. (PRWEB) October 10, 2019
When every detail counts, it isn't the size of a house that matters. For House Beautiful magazine, it was a diminutive 1,000-square-foot Jackson Hole guest cottage featured in WRJ Design's new book "Natural Elegance: Luxurious Mountain Living" that caught their editorial eye. Calling the house an "alpine dream," the magazine applauded its connection to nature – an important piece in every WRJ-designed home – in its recent article on the charming cottage resting peacefully in its bucolic setting overlooking sprawling fields and a sparkling stream.
The two-bedroom, two-bathroom structure – featured in its own chapter of the "Natural Elegance" book titled "Intimacy in Nature" – includes a thoughtfully combined kitchen, living and dining area, all fitting into the 1,000 square feet that is the maximum allowed by the Town of Jackson, Wyoming, for a guest house. Giving the project the loving nickname "big little house," the WRJ Design team worked with architect Shawn Ankeny to create functional, open spaces proportionate to the footprint, while maintaining its connection to the stunning surrounding natural landscape.
Connection to nature is a core philosophy for Jackson Hole-based WRJ Design, led by Rush Jenkins and Klaus Baer. Sharing a deep love of the West, in 2010 Jenkins and Baer relocated their interior and exhibition design business to the mountain town from Manhattan, where Jenkins had founded the firm in 2003 after a career as director of design for Sotheby's New York.
Combining contemporary pieces like the sofa in the living room with the vintage texture and appeal of leather armchairs and such personality-rich antiques as rare wheat-motif dining chairs, WRJ Design created a rustic elegance in the home's gathering space. In one of the home's two bedrooms, a surprising scarlet tufted headboard and bed skirt add a bold stroke of drama to patinaed wood walls and neutral linens.
Warm touches such as soft knotted throws, textured woolen rugs and fur pillows add layers of comfort while charming rustic accents such as antique snowshoes that hang in the living room bring a sense of history and adventure. "With the texture and the finishes we wanted to create that intimacy," WRJ Design co-founder Klaus Baer tells House Beautiful. "All the furnishings, the fabrics, the art—all those other elements come together layer upon layer upon layer and create an ultimate coziness."
Every house curated by WRJ Design includes a unique and intentional dialogue with the natural world by way of textures, materials, colors and bespoke pieces that create a story that unfolds in each interior space. Working in harmony with the cottage's architecture and surroundings, WRJ Design covered virtually every surface with reclaimed barn wood and selected window treatments in a natural linen to add warmth and texture while creating a rustic coziness that carries seamlessly throughout. Meanwhile, nearly an entire wall of the compact living room is made of glass, offering expansive views of fields and mountains.
Published by Vendome, the just-released 256-page "Natural Elegance" is filled with atmospheric images of WRJ Design's interiors from photographer William Abranowicz, whose work appears in collections throughout the world including the Metropolitan Museum of Art and the Smithsonian. Other projects featured in the book range from a minimalist ultra-contemporary house that hovers over craggy Jackson Hole terrain to a Big Sky, Montana, home where rich leather and modern furnishings mingle with rough-hewn wood and stacked stone for a sophisticated take on rustic mountain style.
About WRJ Design:
Headquartered in Jackson, Wyoming, WRJ Design imparts the special serenity of its local Teton landscape to interior designs in Jackson Hole and across the country. Begun out of a passion for great design by Rush Jenkins and Klaus Baer, WRJ creates experiences and environments through its designs that provide timeless reflections of homeowners and their collections, combining the work of regional artisans with finely crafted European furnishings and accessories, and historically rich one-of-a-kind pieces curated from around the world. WRJ Design has been awarded the Home of the Year by Mountain Living in both 2016 and 2018. Published by Vendome, the recently released "Natural Elegance" has sparked a book tour for Jenkins and Baer, and features from the new book are appearing in Luxe, Traditional Home, House Beautiful and other national publications. For more information visit wrjdesign.com.