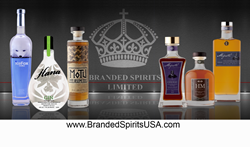 Las Vegas, NV (PRWEB) April 07, 2014
Branded Spirits USA, owner of Ice Fox Vodka, Hana Gin, Motu Rum, HM the King Scotch, Majeste Cognac, and the newly created, Olde Major Bacon Bourbon, has reserved a private hospitality suite at the WSWA to meet with its current distribution partners and host prospective business partners.
Established in 2008, Branded Spirits is a family owned and operated business that has sold its products exclusively in Hong Kong and the major cities of China for the past 5 years. After gaining traction in the Asian market, Branded Spirits has partnered with several large US distributors, including Glazer's, Stoller's, and Best Brands Inc., among others, to bring its portfolio of luxury brands to the American market.
Branded Spirits is scheduling meetings with Wine & Spirits industry members to establish new relationships with distributors, suppliers and logistics service providers. To schedule a meeting time, Nicholas Chen, VP of Marketing & Sales, can be reached at (415)-385-3904 or at nick.chen@brandedspiritsusa.com.
Each product in Branded Spirits' award winning portfolio has been carefully crafted with a focus on quality and taste. Motu, Polynesian for "island", is a smooth rum with lingering sweetness, that owes its inspiration to the royal families of the South Pacific Islands, who remain close friends to the Branded Spirits family. A truly spectacular amber rum, Motu derives its signature, sweet finish from Polynesian sugar cane molasses and its smooth and smokey feel from the premium Limousine Oak casks it is rested in.
Among Branded Spirits' other craft brands is Ice Fox Vodka. Handcrafted by Branded Spirits' master distiller on the majestic Treasure Island in San Francisco, Ice Fox Vodka is as elegant and pure as the endangered arctic fox that the brand fights to protect. Using only the choicest, domestically grown ingredients, Ice Fox has garnered numerous awards for its taste and design.
Equally acclaimed, Hana is a delicate and carefully crafted gin that combines the world's best juniper berries with rare botanicals and citrus to create a clean, distinctive taste profile. Floral on the nose and crisp on the palate, Hana, Japanese for "flower", is produced in the vision of its namesake.
In addition to showcasing its line of fast growing premium spirits brands, Branded Spirits is also launching a new product innovation at the 2014 WSWA that has never before been seen in the marketplace: Olde Major Bacon Bourbon. Olde Major infuses the finest Tennessee bourbon with real bacon to create a bold, new flavor.
A specialty cocktail using Motu Rum was chosen by judges to be included in the 2014 Wine and Spirits Wholesalers of America "Call for the Cocktails" competition on April 9th. All of Branded Spirits premium products will be featured at the "Taste of the Industry" event as well.