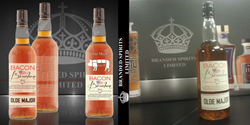 Las Vegas, Nevada (PRWEB) April 07, 2014
Olde Major Bacon Bourbon began a year ago when the company's founders stumbled upon a mixture so quintessentially American, that even an editor of Specialty Foods Magazine said, "This product has no chance of failing." Although many questioned it, the combination of American Bourbon and America's favorite meat product, bacon, sparked conversation from New York to San Francisco and down to Bourbon's heartland, Kentucky & Tennessee.
Today, Olde Major Bacon Bourbon is just a number of hours from its debut at the Wine & Spirits Wholesalers of America (WSWA) convention in Las Vegas, and the team is reaching out their ever-growing fan base to encourage alcohol distributors to bring bacon bourbon to their respective states.
Since the Olde Major Bacon Bourbon team first created their online presence, letting the world know about their upcoming brand, hundreds have signed up for email updates about when the brand becomes available in their area, thousands have followed them through social media, and innumerable masses have visited their website. The brand has continued to grow without a single bottle for sale, but as the guys at Olde Major prepare for their launch, they know their fans are as important as ever.
In many cases, and upon request, Olde Major Bacon Bourbon has even offered to send fans who reach out to distributors an invite to the local launch party when bacon bourbon arrives in their state.