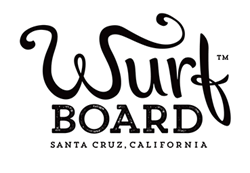 The Wurf Board team, featured at booth 238, will have new board designs and sit/stand desks to try.
SANTA CRUZ, CALIFORNIA (PRWEB) November 10, 2016
The ergonomic Wurf™ Board is excited to land at the 2016 Ergo Expo, set for November 15–17 2016.
Held at Caesar's Palace on the famed Las Vegas Strip, the Ergo Expo is the largest gathering for consumers and businesses to see products and services that can improve ergonomics in the workplace.
The Wurf Board team, featured at booth 238, will have new board designs and sit/stand desks to try. Attendees can experience the ways these innovative products increase productivity by improving blood-flow, which essentially aids in standing comfortably much longer. The Wurf Board is an "Air Spring Chair for your Feet" and stimulates conscious and unconscious micro-movements throughout the body, resulting in improved standing posture, and more comfort for the user. The team will also display the 160-plus at-desk "deskercises" available for use with the Wurf Board.
Furthermore, visitors will get a chance to try the newly released "Rocker" Wurf Board, designed to give the user increased, rocking movement, as and when they want it. The new Wurf Desks will also debut at the exposition. These desks have exquisite real wood inlay, reminiscent of the classic surf era. The 3-section base has the largest vertical travel of any stand up desk. Designed to be sturdy, yet fun, the Wurf line helps people Move More, Feel Better, and Think Clearer™.
To learn more about the Ergo Expo, or to register to attend, please click here: http://ErgoExpo.com/
About Wurf Board
Based in California, the Wurf Board can be used to soften any hard standing surface. The boards relieve tension and improve posture and comfort. Using high quality drop stitch material similar to that used in pricey stand up paddleboards, the Wurf team improved the process to provide unmatched strength and durability at an attractive price point. Available in three sizes and infinitely adjustable with air, each user can customize their Wurf Board experience. The Wurf Board offers an organic solution to the long work day and stressed joints many Americans experience every day. To learn more, please visit http://Wurf.com.