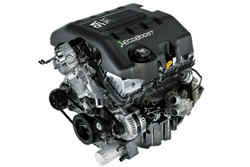 Our new WV motor suppliers will help improve the delivery time frames for shipments that are arranged by consumers through our website
Charleston, WV (PRWEB) September 30, 2015
Growth in the second hand automotive parts business has made it possible for the Preowned Engines company to increase its national operations in more key states this year. WV engine suppliers have joined the reseller network of auto salvage yards launched at the POE company at http://preownedengines.com/wv-used-auto-engines.
The new companies will be able to supply more cities in the state of West Virginia to ensure that consumers have access to non-domestic and domestic motor blocks. The auto scrap yards that are part of the network are exclusively supplying used OEM components and not aftermarket products that are found in some car parts stores.
"Our new WV motor suppliers will help improve the delivery time frames for shipments that are arranged by consumers through our website," said one seller from the PreownedEngines.com company.
The freight fees that are traditionally a part of all sales transactions in the second hand parts business are now waived for most body shops and mechanics who order from the POE website this year. All deliveries including lift gate trucks will be without regular charges, and reduced fees will be offered to car owners in West Virginia who place web orders.
"Through our direct partnerships, we are able to pass along savings for shipping charges and other standard fees for blocks ordered through our website," the seller said.
The Preowned Engines information line for consumers living in WV interested in the new delivery options and inventory can be accessed at 1-866-320-1065. A VIN number is optional when a person calls the support department, and a city zip code will be required to quote fees for shipment.
About PreownedEngines.com
The PreownedEngines.com company finds, acquires and posts inventory for automobile parts buyers on its website daily. The company has trusted suppliers that handle order processing and shipment services for consumers. The PreownedEngines.com company has increased its database size in 2015 and is now featuring more than 1,000 foreign motor blocks for sale.