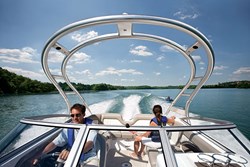 Students can complete their entire Wyoming boater certification on their smartphone, tablet or computer.
Cheyenne, WY (PRWEB) August 31, 2013
Students can now get their official Wyoming boater education card online from Boat Ed. The online course is state-approved training that covers the same classroom material featured in the Boat America – A Course on Responsible Boating manual.
The course features realistic illustrations, interactive animations and live-action video. Students learn safe boating skills such as casting off and docking, understanding traffic laws on the water, dealing with emergencies and more. Students who receive their boater education certificate or boating license pay a one-time fee, which is due only when they pass the course.
Students who pass the course can print out the temporary certificate and immediately begin enjoying safe boating until their permanent Wyoming boater education card arrives in the mail. The Wyoming boater education card is accepted by all states that have mandatory boater education requirements. Likewise, Wyoming will accept boating education cards that are issued by states that meet these requirements. This is due to the fact that a permanent Wyoming boater education card is approved by the Wyoming Game and Fish Department and the National Association of State Boating Law Administrators as well as being recognized by the United States Coast Guard.
Another great feature of Wyoming's new online boater safety course is that it's available on any device including smartphones, tablets, laptops and Internet TV. Students can access the course on the Web even if the only way they have to connect to the internet is via their smartphone. For more information, visit Boat Ed.
About Kalkomey
Kalkomey, parent company of Boat Ed is the official provider of recreational safety education materials for all 50 states. Our print and Internet safety courses have been providing official safety certification for states since 1995. We provide safety courses in boating, hunting, bowhunting, and operating off-road vehicles and snowmobiles. For more information, visit http://www.kalkomey.com.