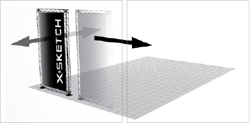 When people see how easy our system is to use ... they can quickly see the true value of our products.
London (PRWEB UK) 28 February 2014
200m2 Exhibition Stands, in partnership with exhibition stand innovators X-Module, has launched a new online exhibition stand design tool called X-Sketch. Designed to help organisations to plan and organise their exhibition programmes, X-Sketch allows companies to design and mock-up multiple exhibition stand concepts.
The new tool from X-Module will be demonstrated for the first time in Britain at Sign and Digital UK, the leading trade show for the sign making, display solutions and wide format digital print sectors. 200m2 will be demonstrating the new exhibition design tool on Stand E76 at regular intervals throughout each day of the show.
X-Sketch is a step-by-step 3D rendering programme and arguably the easiest to use piece of software currently available. In addition to a web based version, there is also an application which can be downloaded for either Windows or OSX (Apple). With the downloaded version, it is possible to add images to the display panels and print off sketches with an external printer. What's more, X-Sketch is FREE to download and use.
The demonstrations of the new 3D exhibition design tool will form part of a wider 'experience' on the 200m2 / X-Module stand. In a move to make their stand more interactive, visitors will be able to get to grips with all the exhibition stand solutions the two companies currently make available in the UK.
Tim Cronin, Managing Director of 200ms explained "Too many people make decisions on the type of exhibition stand system they are going to buy based purely on cost and the finished look of the product. Yet there are many other factors to consider such as assembly, disassembly, storage, transportation costs and ease of alternation between shows."
"It's impossible to make an informed decision until you have actually played with the modular exhibition system to see how it pieces together. When people see how easy our system is to use, with innovations such as our patented centre joint, they can quickly see the true value of our products. Take our X-20 TRUSSwire for example, which is a fully collapsible and folding trussing solution. Until you've actually seen how it unfolds and assembles, it's very difficult to make decisions. That's why we'll be giving hands-on demonstrations on our stand throughout the show."
"X-Sketch is a natural extension of our product range as it allows organisations to build their own designs and concepts extremely quickly. X-Sketch holds many similarities with our modular exhibition stands… it's easy to use, very robust and highly flexible. X-Sketch further improves the flexibility of the modular concept as it quickly gives brand manages the tools they need to visualise the impact of their latest stand design."
200m2 and X-Module are exhibiting at Sign & Digital UK on Stand E76. The complete range of exhibition stand solutions will be on show, from the smallest solution (X-10 CROSSwire) which is designed for POS displays, to the mighty X-25 TECHwire (designed for stage shows and platform stage applications).
Register for a ticket today at https://www.livebuzzreg.co.uk/2014/sduk14/reg/
-Ends-
About 200m2 Exhibitions
From stand design and stand fitting, to exhibition management and event PR, 200m2 is a leading UK provider of exhibition services. Whatever the requirements, from small modular stands to large 200m2 exhibition stands, we provide specialist exhibition services on a global scale.
Uniquely, 200m2 is the only authorised UK partner of TRUSSwire and CROSSwire, a highly flexible and scalable exhibition system which is extremely lightweight yet durable. 200m2 can also manage all exhibition printing needs by producing artwork which simply clips into place between the framework. Whatever your needs, from stand hire to an all-inclusive service, 200m2 delivers solutions which mitigate risk and reduce costs.
For more information, visit http://200m2-exhibition-stands.co.uk.
Media Enquiries to:
Tim Cronin
Managing Director
200m2 Exhibitions
M: 07899 966 795
T: 020 333 200 92