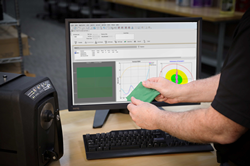 As the textile industry transitions to sustainable practices, a great place to start making changes is within the color workflow.
GRAND RAPIDS, Mich. (PRWEB) May 23, 2023
X-Rite Incorporated and Pantone LLC, global leaders in color science and technology, will showcase cutting-edge color measurement and 3D visualization solutions that facilitate a sustainable textile workflow at ITMA, June 8-14, in Milan, Italy. In Hall 4, Stand E201, X-Rite will highlight the benefits of digital color workflows for textile manufacturers. The solution will help manufacturers streamline color development, create digital material twins, efficiently formulate dyes, and improve overall color quality throughout the production supply chain of dyeing, finishing, and assembly partners. This results in minimized waste, reduced rework, and establishes of a more sustainable workflow.
"As the textile industry transitions to sustainable practices, a great place to start making changes is within the color workflow," said Matthew Adby, Product Management Director, X-Rite. "At the X-Rite booth, ITMA attendees will learn how moving to a digital color workflow makes it easier to approve and produce colors quickly, accurately, and with little waste, water, and energy consumption."
At ITMA, X-Rite will display color measurement solutions for every stage of the design to textile production process.
Design and Specification – Build digital color palettes and create digital color standards to share across a global supply chain. Learn which X-Rite spectrophotometer is best for your textile or digital printing application and how to digitally communicate color and appearance characteristics between designers, brands, dye houses, and OEMs.
Virtual Prototyping – Create virtual prototypes or digital material twins using spectral and imaging data to render original color and texture onto 3D models. to create digital material twins and virtual prototypes. See how X-Rite PANTORA™ software empowers brands and textile suppliers to digitally visualize color and appearance characteristics to expedite product development and reduce oversampling.
Color Formulation – Remove subjectivity from color formulation and increase color match rates by 50 percent. Learn how Color iMatch advanced formulation software enables dye houses to optimize initial color matches, reuse leftover materials, and reduce wasteful formulation attempts.
Production and Quality Control – Measure, maintain, compare, and analyze production color against the standard to ensure it stays in tolerance. Learn how X-Rite color measurement solutions can capture spectral data on a variety of textile materials, including patterns, textures, performance fabrics, accessories, and other hard-to-measure samples.
Digital Textile Printing – Calibrate and profile production print equipment for accurate color. See how i1Pro 3 Plus can assure print quality on a wide variety of textile materials used by digital wide format and industrial printers for dye sublimation, direct-to-fabric, and roll-to-roll fabric.
For more information about X-Rite solutions for textiles, including the solutions showcased at ITMA, visit https://www.xrite.com/industry-solutions/textiles.
About X-Rite
Founded in 1958, X-Rite Incorporated is a global leader in the science and technology of color and appearance. With Pantone, X-Rite employs more than 800 people in 11 countries. The company's corporate headquarters are located in Grand Rapids, Michigan, USA, with regional headquarters in Europe and Asia and service centers across Europe, the Middle East, Asia, and the Americas. X-Rite offers a full range of solutions used by manufacturers, retailers, printers, and graphic design houses to achieve precise management and communication of color and appearance throughout their processes. X-Rite products and services are recognized standards in the printing, packaging, photography, graphic design, video, automotive, paints, plastics, textiles and medical industries. For further information, please visit http://www.xrite.com.
About Pantone
Pantone provides the universal language of color that enables color-critical decisions through every stage of the workflow for brands and manufacturers. More than 10 million designers and producers around the world rely on Pantone products and services to help define, communicate and control color from inspiration to realization – leveraging advanced X-Rite technology to achieve color consistency across various materials and finishes for graphics, fashion and product design. Pantone Standards feature digital and physical color specification and workflow tools. The Pantone Color Institute™ provides customized color standards, brand identity and product color consulting as well as trend forecasting inclusive of Pantone Color of the Year, Fashion Runway Color Trend Reports, color psychology and more. Pantone B2B Licensing incorporates the Pantone Color System into different products and services, enabling licensees to communicate and reproduce certified Pantone values and improve efficiencies for their users. Pantone Lifestyle brings color and design together across apparel, home, and accessories. Learn more at http://www.pantone.com.
# # #
©2023 X-Rite, Inc. All rights reserved.