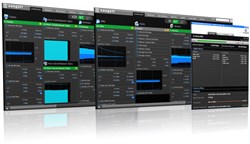 I am impressed with the quality of the technology as well as the breadth of its large enterprise customers. Xangati is primed for explosive growth and I am excited to be on the team - Robert Yusin, VP Sales
San Jose, CA (PRWEB) January 28, 2014
Xangati, a leading provider of VDI and cloud performance management solutions, today announced the appointment of Robert Yusin as vice president of worldwide sales and Stephen Terlizzi as vice president of global marketing.
These new executive announcements come on the heels of Xangati's recent funding and CEO announcements. Xangati continued its sales momentum in Q4 2013 by closing multiple enterprise deals, including a six-figure deal at a major financial services company.
Xangati delivers performance management of workloads running on virtual infrastructure providing second-by-second visualization and alerting across virtual machines, servers, storage and network. Xangati's ability to detect, diagnose and remediate degraded performance in real-time enhances IT productivity and improves end-user experience.
"We are very excited to welcome Robert Yusin and Stephen Terlizzi to our executive management team," said S. Sundi Sundaresh, CEO of Xangati. "They have deep expertise in the datacenter and cloud markets and bring relevant recent successes that can help expand Xangati's reach in the market."
Robert Yusin will head all aspects of Xangati sales and support operations including direct sales, inside sales, channel enablement, and support. Robert brings to the company more than 25 years of experience in applications, security, network and storage in software and hardware markets globally. He was formerly VP of worldwide sales at AccelOps where he grew revenues to the highest in the company's history. His previous experience includes executive sales roles at Fox Technologies, Symantec, Finjan Software, Loglogic (TIBCO), Network Associates, and StorageTek. He has built and managed sales organizations for companies and divisions from zero to $300+ million in revenue.
Yusin is the author of several publications on sales forecasting, pipeline management methodology and enterprise implementations. He holds an M.B.A. from Saint Mary's College of California where he is also a visiting lecturer, speaking on strategy and entrepreneurship topics.
"Xangati has achieved great customer loyalty because unlike legacy management tools, it provides real-time visibility into performance bottlenecks to allow for preventative trouble-shooting and remediation," said Robert Yusin. "I am impressed with the quality of the technology as well as the breadth of its large enterprise customers. Xangati is primed for explosive growth and I am excited to be on the team."
Joining Yusin on the Xangati executive team is Stephen Terlizzi, who will assume responsibility for worldwide marketing and partner development at Xangati. He has more than 25 years experience in both large enterprises and startups, growing and repositioning companies with strategic marketing, messaging and sales enablement programs. Terlizzi was most recently at Tanis Communications where the agency grew by 450+% in revenue under his leadership. Prior to Tanis he was VP and GM of the Storage Solutions Group at Adaptec where he completely rebuilt its worldwide sales and marketing organization. He has also held VP of Marketing roles at several other Silicon Valley startups where he built comprehensive sales enablement programs and repositioned their technology for higher-growth markets.
At EMC Corporation, Terlizzi managed a $5+ billion annual product line and established EMC Japan K.K. as a key member of the initial 5-person management team. He has an undergraduate degree in electrical engineering from Stevens Institute of Technology and a MBA with honors from the Tuck School of Business at Dartmouth College.
"A proven product that solves a crucial problem, an enormously happy customer base, a growing market…Xangati is a marketeer's dream," said Stephen Terlizzi. "I am tremendously excited to help drive our success within the high-growth VDI and cloud performance segment."
Additional Resources:
Website: http://www.xangati.com
Videos: http://www.youtube.com/xangati
Twitter: @XangatiPress
LinkedIn: http://www.linkedin.com/company/xangati
Customer Case Studies and Testimonials: http://xangati.com/customers
Sales Inquiries: sales(at)xangati(dot)com
About Xangati:
Xangati is the recognized leader for cloud and workload performance management solutions. Over 300 customers among enterprises, government agencies, healthcare organizations, educational systems and cloud providers use Xangati's solutions to gain unprecedented performance management of their cloud and VDI environments. Xangati's solutions built on patented technology proactively track the health of key IT metrics that impact the performance of applications and users, accurately diagnose the cause of any performance bottleneck and recommend remedial action when a bottleneck is discovered. Organizations like Ebay, Comcast, British Gas, Guess, Colliers International, Univita Health, DTCC, Harvard University and the US Army use the Xangati Management Dashboard suite of solutions with its massively scalable live and continuous recording ability to ensure their business-critical applications perform at optimal levels. Xangati is headquartered in Silicon Valley and can be found online at http://www.xangati.com.