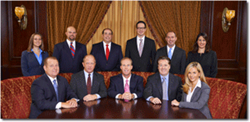 St. Louis, MO (PRWEB) November 19, 2014
Xarelto lawsuit consolidation will be the subject of a Hearing Session on December 4, 2014 in the U.S. Judicial Panel on Multidistrict Litigation (JPML), according to a JPML Order. The Onder Law Firm is representing clients in Xarelto lawsuits who believe their internal bleeding or stroke event may be traced to the pharmaceutical anticoagulant Xarelto. These Xarelto attorneys are respected for their leadership and expertise in the realm of medical product and pharmaceutical litigation, and provide regular Xarelto lawsuit news updates at xareltocontingencylawsuit.com.
The case, In Re: Xarelto Products Liability Litigation (Case No. 2592), has been proposed for MDL status by six plaintiffs who have requested that at least twenty-one other Xarelto lawsuits that have been filed in U.S. federal courts around the nation be consolidated for MDL status in the Southern District of Illinois, according to the JPML Order. The Panel will hear oral arguments from the plaintiffs and the defense regarding the consolidation of these cases and transfer to Illinois.
According to court documents, the defendant, Janssen Research & Development LLC, opposed the request to consolidate and transfer the proposed Xarelto lawsuits to U.S. District Court in Southern Illinois. While the plaintiffs cite the drug's similarity to Pradaxa (another oral anti-coagulant which is the subject of lawsuits for internal bleeding allegations), legal counsel for the defendant states the problems with Xarelto are not as easily grouped together, according to court documents. The defendants also argue that Xarelto lawsuits should not be tried in Southern Illinois because that court is already inundated with over 2,606 lawsuits for Pradaxa as well as another major MDL for Yaz.
Plaintiffs in the Xarelto MDL assert that common claims do exist across Xarelto lawsuits, according to court documents. Specifically, the plaintiffs ask "whether the label was accurate" in warning patients of the risk of serious internal bleeding that accompanies Xarelto, "whether there was adequate testing" prior to market release to determine if the drug was safe for consumption, and "whether there was a breach of warranty", or whether the drug maker delivered on promises to the consumer regarding the efficacy and safety of Xarelto.
Xarelto attorneys at the Onder Law Firm are now accepting claims from individuals and families of individuals who suffered from severe internal bleeding or hemorrhagic stroke and also have a history of taking Xarelto. Lawyers are investigating these inquiries for possible Xarelto bleeding lawsuits. The Onder Law Firm is renowned for its achievements in product and consumer safety litigation, with a strong track record of winning meaningful settlements for clients. The firm is nationally-renowned for its work on window blind strangulation, and has notable expertise in fighting on behalf of individuals against powerful corporations. Persons and family members of persons who have suffered from bleeding or hemorrhagic stroke while taking Xarelto are eligible for a no-cost, no-obligation Xarelto lawsuit case review, and may contact the firm through its Xarelto Contingency Lawsuit website.
The Onder Law Firm also welcomes Xarelto lawsuit inquiries from other law firms, either to handle these inquiries or work as co-counsel.
About The Onder Law Firm
Onder, Shelton, O'Leary & Peterson, LLC is a St. Louis based personal injury law firm handling serious injury and death claims across the country. Its mission is the pursuit of justice, no matter how complex the case or strenuous the effort. Onder, Shelton, O'Leary & Peterson has represented clients throughout the United States, and other firms throughout the nation often seek its experience and expertise on complex litigation. It is a recognized leader in products liability cases such as window blind cord strangulation and pharmaceutical litigation. The Onder Law Firm's Xarelto lawyers provide information to the public at http://www.xareltocontingencylawsuit.com.