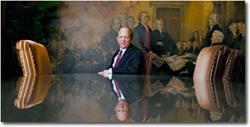 St. Louis, MO (PRWEB) September 10, 2014
Xarelto manufacturers Johnson & Johnson and Bayer recently announced the launch of clinical studies regarding three new uses of Xarelto in the United States. According to Reuter's article published August 29, 2014,* the companies are launching clinical trials to assess Xarelto for use in treating patients with acute coronary syndrome, stroke caused by a clot of unknown origin, and peripheral artery disease. Lawyers handling Xarelto lawsuits for The Onder Law Firm offer timely Xarelto lawsuit news updates and information at XareltoBleeding.com.
Blood thinning drugs represent a growing market in the U.S. and around the world. Xarelto brought in total global sales of $1.7 billion in the year leading up to June 2014, according to the Reuter's piece. Furthermore, sales are estimated to exceed $9.5 billion by the year 2020.*
Between November of 2011 and November of 2012, Xarelto had been approved by the FDA to prevent deep vein thrombosis, pulmonary embolism and stroke in patients undergoing hip and knee replacement surgery and those suffering from non-valvular atrial fibrillation.** Less than a year later, on June 6, 2013, J&J received an FDA warning letter,*** reprimanding the drug giant for "false or misleading" advertising for Xarelto. Specifically, the letter states that a print ad campaign for Xarelto "minimizes the risks associated with Xarelto and makes a misleading claim". The warning letter stated that the internal bleeding risk that is associated with Xarelto was only mentioned peripherally in the advertisements, whereas claims for the drug's benefits were highlighted.
Xarelto lawsuits, such as one filed in U.S. District Court, Eastern District of New York (Case 1:14-cv-04524-DLI-MDG) allege that J&J and Bayer advertised Xarelto in a misleading fashion, making false claims about the drug, according to court documents. The patient, allegedly unaware of the Xarelto bleeding risks, reportedly suffered major bleeding and lasting injuries, according to court documents.
Xarelto is a leading anticoagulant drug that is used to thin blood and prevent harmful blood clots and associated health conditions. Xarelto has been found to cause serious and often fatal bleeding complications and strokes and has been linked to a higher-than-expected risk for severe internal bleeding, such as abdominal bleeding, rectal bleeding, brain bleeding, and strokes.*** Once bleeding incidents begin in patients taking Xarelto, there is no known antidote, or substance that will reliably stop bleeding before it becomes dangerous.****
The products liability lawyers at Onder, Shelton, O'Leary, & Peterson are investigating Xarelto internal bleeding claims and provide a free case review for persons, and the families of persons, who suffered from internal bleeding while taking Xarelto. The firm is representing all persons who file a Xarelto internal bleeding lawsuit or Xarelto stroke lawsuit on a contingency basis.
Nationally respected for its work on window blind strangulation, the Onder Law Firm has extensive experience winning settlements for individuals and families against large corporate entities. The firm is handling Xarelto lawsuit claims for clients throughout the nation who have experienced internal bleeding or strokes after taking the dangerous drug Xarelto. Attorneys handling Xarelto lawsuits believe that individuals who have suffered from severe internal bleeding while taking Xarelto may be entitled to real compensation through filing a claim.
About The Onder Law Firm
Onder, Shelton, O'Leary & Peterson, LLC is a St. Louis based personal injury law firm handling serious injury and death claims across the country. Its mission is the pursuit of justice, no matter how complex the case or strenuous the effort. Onder, Shelton, O'Leary & Peterson has represented clients throughout the United States, and other firms throughout the nation often seek its experience and expertise on complex litigation. It is a recognized leader in products liability cases such as window blind cord strangulation and pharmaceutical litigation. The Onder Law Firm offers information pertaining to Xarelto internal bleeding dangers and Xarelto stroke dangers at http://www.xareltobleeding.com.
*reuters.com/article/2014/08/29/us-bayer-xarelto-idUSKBN0GT1UI20140829
**fda.gov/newsevents/newsroom/pressannouncements/ucm326654.htm
***fda.gov/downloads/Drugs/DrugSafety/UCM280333.pdf
**** ncbi.nlm.nih.gov/pubmed/23866358 PubMed June 22, 2013