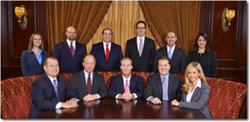 Plaintiffs suggest the number of Xarelto lawsuits nationwide will grow, in accordance with the number of FDA adverse event reports.
St. Louis, MO (PRWEB) November 26, 2014
As Xarelto attorneys and interested parties await a December 4, 2014 Hearing Session of the U.S. Judicial Panel on Multidistrict Litigation (JPML) to learn whether and where Xarelto lawsuits may be consolidated, attorneys handling Xarelto lawsuit claims for the Onder Law Firm have uncovered additional information regarding the multidistrict litigation. In an effort to distance Xarelto from the legal complications surrounding another oral anticoagulant, Pradaxa*, defendants in the proposed Xarelto lawsuit MDL** argue the cases should not be consolidated because they concern "different issues altogether" and hinge on "individual facts" rather than common questions, according to a court document.
Two questions have gained prominence in the argument between the parties as to whether the lawsuits should be consolidated as MDL, according to official court documents. The first concerns scientific findings and medical implications related to severe bleeding incidents and Xarelto; the second revolves around advertising for the pharmaceutical drug.
Plaintiffs argue that the common question in all Xarelto lawsuits is that routine blood testing and blood monitoring could prevent serious bleeding incidents, which are the subject of this litigation, according to court documents: "This central dispute – whether Xarelto should be prescribed without blood monitoring and dose adjustments – is common to all cases regardless of the indication for which it was prescribed or the type of injury caused by over-dosing or under-dosing Xarelto." Oral anti-coagulants in general are currently monitored for bleeding problems by the FDA.***
Defendants argue that Xarelto attorneys have engaged in extensive marketing to build a case against Janssen Pharmaceuticals, Inc. In response, plaintiffs highlight the marketing efforts conducted by the pharmaceutical company to promote Xarelto to patients. According to court documents, several different television ads feature "regular men and women, and even celebrities" choosing Xarelto over an alternative blood thinner because the drug does not require blood monitoring. Plaintiffs argue that the serious bleeding health problems they have suffered could have been prevented by dosage monitoring.
According to court documents, plaintiffs say adverse event reports collected by the FDA for Xarelto outnumbered those for Pradaxa in 2013, with 680 serious adverse event reports for Xarelto, including Xarelto bleeding events, and 528 for Pradaxa. Plaintiffs suggest the number of Xarelto lawsuits nationwide will grow, in accordance with the number of FDA adverse event reports, according to court documents.
The Onder Law Firm is representing clients in Xarelto lawsuits who believe their internal bleeding or stroke event may be traced to the pharmaceutical anticoagulant Xarelto. These Xarelto attorneys are respected for their leadership and expertise in the realm of medical product and pharmaceutical litigation, and provide regular Xarelto lawsuit news updates at xareltocontingencylawsuit.com.
The case, In Re: Xarelto Products Liability Litigation (Case No. 2592), has been proposed for MDL status by six plaintiffs who have requested that at least twenty-one other Xarelto lawsuits that have been filed in U.S. federal courts around the nation be consolidated for MDL status in the Southern District of Illinois, according to court documents. The Panel will hear oral arguments from the plaintiffs and the defense regarding the consolidation of these cases and transfer on December 4, 2014 in Charleston, SC.
Xarelto lawyers at the Onder Law Firm are currently fielding inquiries from persons and the families of persons who suffered from severe internal bleeding or hemorrhagic stroke and also have a history of taking Xarelto. Lawyers are investigating these claims for possible Xarelto bleeding lawsuits. The Onder Law Firm is renowned for its achievements in product and consumer safety litigation, with a strong track record of winning meaningful settlements for clients. The firm is nationally-renowned for its work on window blind strangulation, and has notable expertise in fighting on behalf of individuals against powerful corporations. Persons and family members of persons who have suffered from bleeding or hemorrhagic stroke while taking Xarelto are eligible for a no-cost, no-obligation Xarelto lawsuit case review, and may contact the firm through its Xarelto Contingency Lawsuit website.
The Onder Law Firm also welcomes Xarelto lawsuit inquiries from other law firms, either to handle these inquiries or work as co-counsel.
About The Onder Law Firm
Onder, Shelton, O'Leary & Peterson, LLC is a St. Louis based personal injury law firm handling serious injury and death claims across the country. Its mission is the pursuit of justice, no matter how complex the case or strenuous the effort. Onder, Shelton, O'Leary & Peterson has represented clients throughout the United States, and other firms throughout the nation often seek its experience and expertise on complex litigation. It is a recognized leader in products liability cases such as window blind cord strangulation and pharmaceutical litigation. The Onder Law Firm's Xarelto lawyers provide information to the public at http://www.xareltocontingencylawsuit.com.
*Pradaxa (Dabigatran Etexilate) Products Liability Litigation (Case No. 2385), U.S. District Court, Southern District of Illinois
**Xarelto Products Liability Litigation (Case No. 2592), under consideration by Judicial Panel on Multidistrict Litigation
***fda.gov/Drugs/NewsEvents/ucm405148.htm