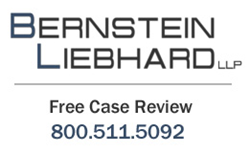 "Our Firm is beginning to hear from more and more individuals who allegedly suffered life-threatening episodes of internal bleeding caused by Xarelto.
New York, NY (PRWEB) July 17, 2014
Bernstein Liebhard LLP has launched a new website for individuals who may be eligible to file a Xarelto lawsuit (http://www.xareltolawsuitcenter.com/) alleging injuries caused by the new-generation blood thinner, the Firm reports.
The site will benefit individuals who may have suffered internal bleeding, strokes, pulmonary embolism or deep vein thrombosis after taking a drug jointly marketed by Bayer Healthcare Pharmaceuticals and Johnson & Johnson's Janssen unit. The Firm's attorneys will provide instruction on how to file a claim against these manufacturers that seeks compensation for lost wages, medical expenses and other damages that allegedly stem from Xarelto use.
If you or a loved one experienced any or more of the following side effects, you may be eligible to file a Xarelto lawsuit:

Life-threatening Internal bleeding, including cerebral or gastrointestinal hemorrhage
Pulmonary embolism (PE)
Deep vein thrombosis (DVT)
Death
Xarelto is a direct thrombin inhibitor used to prevent blood clots in people with atrial fibrillation, treat deep vein thrombosis and pulmonary embolism, and to prevent blood clots in patients undergoing hip replacement surgeries. *
"Our Firm is beginning to hear from more and more individuals who allegedly suffered life-threatening episodes of internal bleeding caused by Xarelto, so we recognized the need for a website that instructs them on how to file a claim," says Bernstein Liebhard LLP, a nationwide law firm representing victims of defective drugs and medical devices. The Firm is currently investigating potential Xarelto case evaluations to people who may have suffered injuries from the blood thinner.
Xarelto Lawsuits
Since Xarelto was approved by the U.S. Food and Drug Administration (FDA) in 2011, the drug has been suggested to cause strokes, pulmonary embolism and deep vein thrombosis, as well as serious episodes of internal hemorrhaging. This occurrence can be difficult to stop since there is no known antidote for Xarelto bleeding.*
Xarelto is referred to as a direct thrombin inhibitor, which belongs to a class that also includes Eliquis and Pradaxa. Most recently, the drug's safety was questioned in a May 2014 QuarterWatch report from the Institute for Safe Medicine Practices (ISMP) that found hundreds of Xarelto side effect reports filed in the FDA's adverse event database. The federal agency received a total of 680 Xarelto adverse event reports in the first quarter of 2013, according to the ISMP report.**
Court records indicate that Xarelto lawsuits are being filed by individuals who allege serious side effects caused by the blood thinner. A Reuters report in June 2014 indicates that Bayer and Johnson & Johnson were named in at least 10 individual claim involving Xarelto***
Most recently, a Florida woman filed one such case in the U.S. District Court, Southern Distict of Florida, following her husband's death from a subdural hemorrhage. Among other things, the June 23rd filing accuses its manufacturer of withholding knowledge from the public that Xarelto may result in uncontrollable episodes of internal bleeding.
The complaint also alleges that Xarelto was wrongly marketed as a safer alternative to warfarin, a blood thinner that has been on the market for decades. Unlike Xarelto, there is a readily-available antidote for warfarin bleeding, according to the lawsuit. (Case 0:14-cv-61448-JAL)
Alleged victims of internal bleeding, strokes, pulmonary embolism and deep vein thrombosis caused by Xarelto may be entitled to compensation for their injury-related damages. Learn more about filing a Xarelto lawsuit by visiting Bernstein Liebhard LLP's website, or by calling 800-511-5092 to schedule a free, no obligation case review.
*fda.gov/downloads/drugs/drugsafety/ucm280333.pdf, FDA, March 2014
**ismp.org/quarterwatch/pdfs/2013Q1.pdf, Institute for Safe Medication Practices, May 7, 2014.
***reuters.com/article/2014/06/14/us-bayer-suit-idUSKBN0EP0HW20140614, Reuters.com, June 14, 2014.
About Bernstein Liebhard LLP
Bernstein Liebhard LLP is a New York-based law firm exclusively representing injured persons in complex individual and class action lawsuits nationwide since 1993. As a national law firm, Bernstein Liebhard LLP possesses all of the legal and financial resources required to successfully challenge billion dollar pharmaceutical and medical device companies. As a result, our attorneys and legal staff have been able to recover more than $3 billion on behalf of our clients. The Firm has been named by The National Law Journal to the Plaintiffs' Hot List, recognizing the top plaintiffs firms in the country, for the past 12 consecutive years. Bernstein Liebhard LLP is the only firm in the country to be named to this prestigious list every year since it was first published in 2003.
Bernstein Liebhard LLP
10 East 40th Street
New York, New York 10016
800-511-5092
ATTORNEY ADVERTISING. © 2014 Bernstein Liebhard LLP. The law firm responsible for this advertisement is Bernstein Liebhard LLP, 10 East 40th Street, New York, New York 10016, 800-511-5092. Prior results do not guarantee or predict a similar outcome with respect to any future matter.
Contact Information:
Felecia L. Stern, Esq.
Bernstein Liebhard LLP
info (at)consumerinjurylawyers(dot)com
http://www.xareltolawsuitcenter.com/
https://plus.google.com/115936073311125306742?rel=author