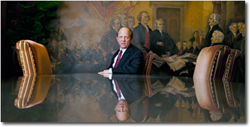 St. Louis, MO (PRWEB) February 26, 2015
Attorneys handling Xarelto lawsuit claims report an anticipated Status Conference in the Xarelto Products Liability Litigation multidistrict litigation (MDL 2592) now underway in Louisiana District Court. The status conference is scheduled to take place this Friday, February 27 at 9:00 am, according to court documents.
Xarelto lawsuits were first consolidated in Louisiana in December of 2014. Plaintiffs involved in the litigation allege that they have suffered injuries as a result of Xarelto, including but not limited to internal bleeding, stroke, deep vein thrombosis, and pulmonary embolism. Among the counts plaintiffs have filed against drug's makers, Bayer and Johnson and Johnson, are allegations that the drug's warning label did not adequately caution consumers serious health risks associated with the drug. Furthermore, plaintiffs claim Xarelto was promoted as superior to warfarin, which they assert is false.
To date, nearly 100 claims have been filed as part of the consolidated Xarelto lawsuits, according to court documents. These claims share common facts, each having been filed by or on behalf of a person who suffered from internal bleeding or stroke they say are connected to Xarelto.
Early status conferences establish methods and procedures for pretrial proceedings such as the Discovery process, according to the Onder Law Firm. As Xarelto lawsuits progress, new claims may be consolidated at any time. Lawyers handling national Xarelto lawsuits are accepting inquiries from persons and the families of persons who suffered an injury while taking Xarelto. These inquiries will be considered for possible inclusion in the multidistrict litigation. Distinct from class action lawsuits, MDLs enable an efficient processing of similar claims, such as in the case of a defective or dangerous product, while preserving the individual details of each case for trial or settlement purposes, according to attorneys handling Xarelto claims at the Xarelto Contingency Lawsuit website.
The Onder Law Firm is renowned for its achievements in product and consumer safety litigation, with a strong track record of winning meaningful settlements for clients. The firm is nationally-renowned for its work on window blind strangulation, and has notable expertise in fighting on behalf of individuals against powerful corporations. Individuals and the family members of individuals who have suffered from internal bleeding and have taken Xarelto are eligible for a no-cost, no-obligation Xarelto lawsuit case review, and may contact the firm through its Xarelto Contingency Lawsuit website. The firm provides information on bleeding warnings and Xarelto lawsuit news.
The Onder Law Firm also welcomes Xarelto lawsuit inquiries from other law firms, either to handle these inquiries or work as co-counsel.
About The Onder Law Firm
Onder, Shelton, O'Leary & Peterson, LLC is a St. Louis based personal injury law firm handling serious injury and death claims across the country. Its mission is the pursuit of justice, no matter how complex the case or strenuous the effort. Onder, Shelton, O'Leary & Peterson has represented clients throughout the United States, and other firms throughout the nation often seek its experience and expertise on complex litigation. It is a recognized leader in products liability cases such as window blind cord strangulation and pharmaceutical litigation. The Onder Law Firm's Xarelto attorneys provide information to the public and free, confidential case evaluation at http://www.XareltoContingencyLawsuit.com.