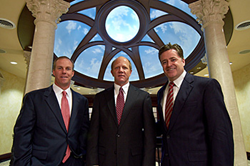 St. Louis, Missouri (PRWEB) August 29, 2014
The Onder Law Firm has recently launched a new Xarelto bleeding website offering information to persons who suffered serious bleeding complications and strokes after taking the popular blood thinner, Xarelto. A recent lawsuit filed in U.S. District Court, Eastern District of New York (Case 1:14-cv-04524-DLI-MDG) alleges the drug manufacturer used misleading claims to market the drug. According to court documents the plaintiff suffered from severe bleeding and was left with permanent injuries.
Xarelto is a popular anticoagulant or blood thinner that has come under scrutiny in recent years for causing serious and often fatal bleeding complications and strokes. Xarelto has been linked to a higher-than-expected risk for severe internal bleeding, such as abdominal bleeding, rectal bleeding, brain bleeding, and strokes.* Unlike traditional blood thinners, there is no known antidote** to stop excessive internal bleeding when patients are prescribed Xarelto.
In 2011, the New England Journal of Medicine*** conducted a study (the Rocket-AF study) that showed that Xarelto was no more effective at preventing blood clots in patients with atrial fibrillation than traditional anticoagulants, such as warfarin. The Rocket-AF study also showed that gastrointestinal bleeding and rectal bleeding occurred more frequently with Xarelto, thus prompting numerous patients to file Xarelto internal bleeding lawsuits across the country.
The products liability lawyers at Onder, Shelton, O'Leary, & Peterson are investigating Xarelto internal bleeding claims and offering patients and their families a free case review. The firm is representing all persons who file a Xarelto internal bleeding lawsuit or Xarelto stroke lawsuit on a contingency basis. Another relatively new anti-coagulant, Pradaxa, made major news earlier this year when thousands of Pradaxa bleeding lawsuits were settled for $650 million****.
Although the Onder Law Firm is located in St. Louis, MO, they are representing clients across the United States who have experienced internal bleeding or strokes after taking the dangerous drug Xarelto. The Onder Law Firm is known for winning major settlements for clients in the areas of drug and medical device recalls, as well as product and family safety. The firm is nationally-renowned for its work on window blind strangulation, and has notable expertise in fighting on behalf of individuals against powerful billion-dollar corporations.
About The Onder Law Firm
Onder, Shelton, O'Leary & Peterson, LLC is a St. Louis based personal injury law firm handling serious injury and death claims across the country. Its mission is the pursuit of justice, no matter how complex the case or strenuous the effort. Onder, Shelton, O'Leary & Peterson has represented clients throughout the United States, and other firms throughout the nation often seek its experience and expertise on complex litigation. It is a recognized leader in products liability cases such as window blind cord strangulation and pharmaceutical litigation. The Onder Law Firm offers information pertaining to Xarelto internal bleeding dangers and Xarelto stroke dangers at http://www.xareltobleeding.com.
*http://www.fda.gov/downloads/Drugs/DrugSafety/UCM280333.pdf
**http://www.ncbi.nlm.nih.gov/pubmed/23866358 PubMed June 22, 2013
***http://www.nejm.org/doi/full/10.1056/NEJMoa1009638
**** New York Times, 5-28-2014, http://www.nytimes.com/2014/05/29/business/international/german-drug-company-to-pay-650-million-to-settle-blood-thinner-lawsuits.html