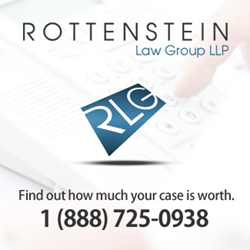 Rockville Centre, NY (PRWEB) June 16, 2014
The Rottenstein Law Group, a national personal injury law firm with over 25 years of experience helping plaintiffs who have been injured by dangerous prescription drugs and defective medical devices, announces the launch of an information center on Xarelto® Lawsuits on its website, to assist individuals who might be considering filing a lawsuit against Bayer, the manufacturer of the drug. The page can be found at http://www.rotlaw.com/xarelto/.
Xarelto® (rivaroxaban) is a commonly prescribed blood thinner that has been associated with uncontrolled bleeding, which can occur in the body's vital organs. Moreover, this internal bleeding can become so severe that it can cause other health risks. Data shows that the U.S. Food and Drug Administration received almost 700 adverse event reports associated with Xarelto® in 2013 that documented injuries sustained by patients who were prescribed the drug by physicians.* "Blood thinners," or anticoagulants, are typically a high risk drug, although they are widely prescribed to help prevent blood clots that can lead to heart attacks and strokes in some patients.
The Rottenstein Law Group LLP encourages anyone who believes they, or a loved one have been injured by Xarelto® to visit the firm's webpage for valuable information about the drug's dangers. Users are invited to request a no-cost case evaluation by filling out the confidential form found on the site's home page.
*http://www.ismp.org/quarterwatch/pdfs/2013Q1.pdf
ABOUT THE ROTTENSTEIN LAW GROUP LLP
The Rottenstein Law Group LLP is a New York-based firm that represents clients nationwide in mass tort actions. The firm was founded by Rochelle Rottenstein, who has more than two decades of experience as a lawyer, to represent clients hurt by defective medical devices and medications. (Attorney advertising. Prior results do not guarantee a similar outcome.)
Contact:
The Rottenstein Law Group LLP
Rochelle Rottenstein, Esq.
100 Merrick Road
Suite 226W
Rockville Centre, NY 11570
(212) 933-9500 (office phone)
(212) 933-9980 (facsimile)
rochelle (at) rotlaw (dot) com
plus.google.com/106070664376281033016