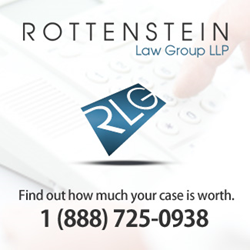 Our goal is to make it as easy as possible for anyone possibly harmed by Xarelto to learn about those dangers and about legal options for demanding compensation for injuries suffered
Rockville Centre, NY (PRWEB) July 25, 2014
The Rottenstein Law Group LLP, a national personal injury law firm with over 25 years of experience advocating for plaintiffs with claims of harm stemming from dangerous prescription drugs, announces the launch of its new website, http://www.xareltoinjuryfirm.com, to offer information to those who believe they have been harmed by the prescription drug Xarelto.
The site offers valuable information about the severe adverse side effects allegedly associated with Xarelto (rivaroxaban). Like similar so-called "blood thinners" (anticoagulants), Xarelto carries a risk of internal bleeding (hemorrhaging) side effects, according to the U.S. Food and Drug Administration.* Xarelto's internal bleeding side effects cannot be controlled or reversed by physicians, however, making the drug more dangerous than other, conventional anticoagulants, such as warfarin (Coumadin).
"Our goal is to make it as easy as possible for anyone possibly harmed by Xarelto to learn about those dangers and about legal options for demanding compensation for injuries suffered," said Rochelle Rottenstein, principal of the Rottenstein Law Group.
The Rottenstein Law Group LLP encourages anyone who believes that they have been injured by Xarelto to visit the firm's new site for valuable information about the drug's alleged dangers. Users are invited to request a no-cost case evaluation by filling out the confidential form found on the site's home page.
*http://www.fda.gov/safety/medwatch/safetyinformation/ucm367392.htm
ABOUT THE ROTTENSTEIN LAW GROUP LLP
The Rottenstein Law Group LLP is a New York-based firm that represents clients nationwide in mass tort actions. The firm was founded by Rochelle Rottenstein, who has more than two decades of experience as a lawyer, to represent clients hurt by defective medical devices and medications. (Attorney advertising. Prior results do not guarantee a similar outcome.)
Contact:
The Rottenstein Law Group LLP
Rochelle Rottenstein, Esq.
100 Merrick Road
Suite 226W
Rockville Centre, NY 11570
(212) 933-9500 (office phone)
(212) 933-9980 (facsimile)
rochelle (at) rotlaw (dot) com
plus.google.com/106070664376281033016