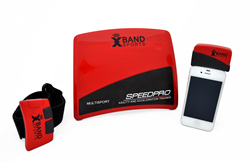 We're finally able to bring cutting-edge technology straight to athletes everywhere. Aspiring athletes will have a whole new way to train with Speed Pro. It's affordable, accessible coaching that's available to anyone.
San Diego (PRWEB) March 28, 2014
A little over four years ago, a group of sports-minded engineers and product developers got together with a hunger to create a new line of technology specifically for athletes. Now, after forming their company, XBand Sports, the team is finally ready to make their first big debut with the Speed Pro Agility and Acceleration trainer that launches for pre-order on Kickstarter today.
"This is a big, exciting day for us," said Jose Doval, XBand Sports CEO. "It marks the realization of a big dream for us. We're finally able to bring cutting-edge technology straight to athletes everywhere. Aspiring athletes will have a whole new way to train with Speed Pro. It's affordable, accessible coaching that's available to anyone."
The Speed Pro is wearable training technology made for competitive athletes. Unlike many other wearable fitness and training technologies on the market that give surface level details, the Speed Pro provides athletes with intricate data about their performance. This piece of equipment, the first in an extensive line XBand plans to create, focuses on speed and agility for athletes in any sport where speed and acceleration are key. Athletes can set up and run single-leg or multi-leg routes, and the Speed Pro generates data such as how quickly they accelerate, their velocity profile, their maximum speed over time and the distance they ran.
"We decided to start with the Speed Pro because speed and quickness is valuable to athletes in every sport," said Steve Kim, XBand Sports President. "Whether you're training for the 40-yard dash on the football field or you're trying to up your speed around the bases, the Speed Pro allows you to see the exact points of your run that need to be improved upon. The data it gives you empowers you with the information you need to get better."
Composed of three modules and a mobile app, the Speed Pro works in conjunction with smartphones or tablets and is simple to use. The key pieces are the Body Module, the Marker Module and the Smartphone Adapter. These work as a system that sends key data to an athlete's smartphone or tablet so that it can be tracked and compared with other athletes over time.
The Body Module, worn on the arm or waist, detects starting point with three options. A manual start option allows the athlete to push a button to start timing his or her race, an auto-detect start tells the system to detect when the athlete begins, and a simulated race start option sounds a signal that athletes can use to practice for live starts.
The Marker Module contains signal processing hardware, a microwave sensor, and an RF module to accurately analyze finish or split times to a high resolution (one hundredth of a second). The technology allows this module to obtain times with precision comparable to expensive laser systems. Raw data is captured and transmitted from the Marker Module to performance profiles on the XBand app.
The Smartphone Adapter plugs into the audio jack on any smartphone or tablet, allowing the metrics sent from the Marker Module to be captured and displayed in the XBand Sports app. Athletes can track their overall progress and compare their times to both friends and world-class athletes.
This technology is all available starting today through Kickstarter, so that XBand Sports can raise the $150,000 needed to fund its first round of production. Those interested can now visit http://bit.ly/XBandKS to back the project and become a part of the Speed Pro's first-ever manufacturing run. Early bird pricing starts at $100 for the Speed Pro Agility and Acceleration Trainer, but supplies are limited. After the first 100 systems are pre-ordered, pricing increases to $135. Special coaches packages and school packages are also available for pre-order. These will include more pieces for teams and athletic departments to use for work outs.
For more information, visit http://bit.ly/XBandKS. Also, like XBand on Facebook and follow them on Twitter @XBandsports.
About XBand
XBand was founded in 2009 and is based in San Diego with a core engineering team experienced in consumer electronics, wireless systems, and software development. We exist to help individuals have more fun and excel in the sports of their choice. Our goal is to bring our problem solving know how to tackle a wide ranging set of challenges for athletes whether they are aspiring high school athletes, an accomplished collegiate athlete competing in either individual or team sports or adults who just enjoy competitive sports. For more information, visit http://www.XBandsports.com.