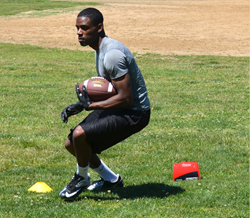 XBand's use of technology to monitor athletic performance will transform sports forever—at all levels. Whatever your commitment is, XBand Technology can help you improve.
San Diego, CA (PRWEB) April 09, 2014
Former basketball star and current sportscaster Bill Walton recently gave his stamp of approval for the brand new technology developed by XBand Sports. The Hall of Famer endorsed the Speed Pro as a product that would provide many up-and-coming sports stars with the tools they need to improve the most important fundamentals of their game.
"XBand is a visionary company fueled by purpose and passion," said Walton. "They have extraordinary leadership and brilliant engineering skills. They are paving the way for the next generation of sports. XBand's use of technology to monitor athletic performance will transform sports forever—at all levels. Whatever your commitment is, XBand Technology can help you improve."
The startup recently launched its first product, the Speed Pro Agility and Acceleration trainer on Kickstarter. The Speed Pro is a three-module system that allows athletes to collect distinct data related to their performance during a sprint or running drill, and then sends that data straight to a smartphone app and the Web.
The Body Module, worn on the arm or waist, detects movement. It captures acceleration, and speed. It also detects a start with three options. A manual start option allows the athlete to push a button to start timing his or her race, an auto-detect start tells the system to detect when the athlete begins, and a simulated race start option sounds a signal that athletes can use to practice for live starts. Athletes can compare their current run metrics with previous runs to see how much time they might be losing due to their reaction time. They can also see exactly how long it took them to reach their maximum speed, or if they slowed down during the run. They can compare and share their overall run profiles to evaluate different techniques to help improve their performance.
The Marker Module contains signal processing hardware, a microwave sensor, and an RF module to accurately analyze finish or split times to a high resolution (one hundredth of a second). A human timer can introduce 0.23 seconds of error into a race time. Practicing with the Speed Pro cuts down on error so that athletes can accurately track how much they are improving.
Raw data is captured and transmitted from the Body Module to the Marker Module to performance profiles on the XBand Sports app. The Smartphone Adapter plugs into the audio jack on any smartphone or tablet, allowing the metrics sent from the Marker Module to be captured and displayed in the XBand Sports app. The Smartphone adapter is designed for longer range than the standard Bluetooth system on your phone. Athletes can track their overall progress and compare their times to both friends and world-class athletes. They also get coaching tips from the app and can share the data with their coaches or trainers for additional help via the web.
"It means a lot to us to have Bill Walton's endorsement," said Jose Doval, XBand Sports CEO. "He's an extremely accomplished athlete. He knows all about performing at a peak level and the value of practice and coaching it takes to get there. We're excited he's on board and his support means that we can tell more people about what XBand is doing to help committed athletes reach their ambitions."
With a little less than a month left on Kickstarter, XBand Sports is targeting to raise $150,000 to fund its first-ever manufacturing run. Early bird pricing starts at $100 for the Speed Pro Agility and Acceleration Trainer, but supplies are limited. After the first 100 systems are pre-ordered, pricing increases to $135. Special coaches packages and school packages are also available for pre-order. These will include more pieces for teams and athletic departments to use for work outs.
For more information, visit http://bit.ly/XBandKS. Also, like XBand on Facebook and follow them on Twitter @XBandsports.
ABOUT XBAND
XBand was founded in 2009 and is based in San Diego with a core engineering team experienced in consumer electronics, wireless systems, and software development. We exist to help individuals have more fun and excel in the sports of their choice. Our goal is to bring our problem solving know how to tackle a wide ranging set of challenges for athletes whether they are aspiring high school athletes, an accomplished collegiate athlete competing in either individual or team sports or adults who just enjoy competitive sports. For more information visit http://www.XBandsports.com.