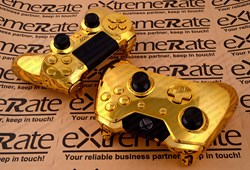 ExtremeRate.com Releases Chrome Gold Controller Shells for New Xbox One and PS4
(PRWEB) December 06, 2013
Both the Xbox One and the PS4 recorded one million products sold in the first 24 hours of release, and ExtremeRate.com is now offering chrome gold controller shells for both products.
Extremerate.com CEO Ray Zhu explains, "The first batch of samples was made on November 25 following the release of the Xbox One, but this is not the final design. Samples will be sent to major customers for additional feedback and new design ideas will be considered. The estimated sale date for mass production is one month for the chrome gold edition, as well as for the polished, hydro-dip and transparent series. We hope to bring new ideas to surprise our customers."
Sales manager Rex Cao explains his confidence in the product: "We have been a top wholesale supplier of Xbox 360 and PS3 controller shells over the past few years because we have the best quality and service in the industry. We built a solid reputation with our customers, so we are sure that we will do better on the new consoles of the Xbox One and PS4."
The chrome gold controller shell offers a sharp and sleek appearance that is sure to impress gamers. Working exactly the same as the original shell, ExtremeRate.com's controller shell is the ideal replacement for a broken or dysfunctional Xbox One or PS4 wireless controller shell.
For more information, visit http://www.extremerate.com.
About ExtremeRate.com
ExtremeRate is a Chinese wholesale distributor specializing in gamer accessories, replacement controller shells, LED kits, controller and console skins, protective case, and more. We strictly test all our products and take pride in offering the best in the industry.