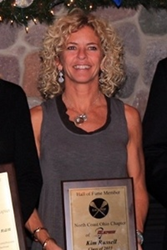 Coach Russell and a stellar coaching staff will provide campers with high level instruction at all positions.
San Rafael, CA (PRWEB) March 16, 2015
At her hall of fame induction, Baldwin Wallace Head Coach, Kim Russell, was recognized as being a pioneer of women's soccer in Northern Ohio and for her dedication to coaching girls lacrosse. She was also honored for starting teams, programs, classes, and clinics for every level from youth through college.
Russell started the first girls high school lacrosse team on the westside of Cleveland at Magnificat High School (1996-2003). She started the first youth and middle school teams for girls on the westside of Cleveland through Rocky River Recreation (2003-2011). And, in 2012, Russell became the first-ever women's lacrosse coach at Baldwin Wallace. Presently, she is involved as a coach and advisor at the Ohio Premier Lacrosse Club of Cleveland. She also also sits on the board for for U.S. Lacrosse (Ohio North Coast Chapter). Additionally, she has mentored numerous student-athletes who have gone on to play collegiate field hockey and/or lacrosse.
"Xcelerate Nike Lacrosse Camps is proud to partner with Coach Russell and Baldwin Wallace University," states Steve Anderson, Founder and President of Xcelerate Nike Lacrosse Camps. "Coach Russell and a stellar coaching staff will provide campers with high level instruction at all positions. The Midwest continues its trend toward the forefront of the lacrosse world. We can't think of a better place to do it than Baldwin Wallace."
Russell has a vast background as a teacher, coach and instructor. In addition to her coaching and administration responsibilities, she taught physical education for 11 years at the Ruffing Montessori School in Rocky River and at the Virgin Islands Montessori School & International Academy (2006-2010). She also has served as a Group Exercise Instructor for the past 30 years. Russell is a 1989 graduate of the College of William & Mary (Va.) where she played NCAA Division I field hockey and lacrosse.
Kim Russell will be coaching this summer at the the Xcelerate Nike Girls Lacrosse Camp at Baldwin Wallace University July 27-30.
About US Sports Camps
US Sports Camps(USSC), headquartered in San Rafael, California, is America's largest sports camp network and the licensed operator of NIKE Sports Camps. The company has offered summer camps since 1975 with the same mission that defines it today: to shape a lifelong enjoyment of athletics through high quality sports education and skill enhancement.
For more information, please visit http://www.ussportscamps.com or call 1-800-NIKE-CAMP