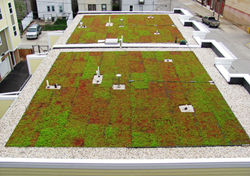 Ideal solution for green roofs on buildings where roof load bearing capacity is limited
Durham, N.C. (PRWEB) November 19, 2014
The Xero Flor Green Roof System again won a Product Innovation Award from Architectural Products magazine. Xero Flor won last year for the superior durability of its pre-vegetated mats. It was honored this year for an ultra-lightweight option that weighs only ten pounds per square foot when fully saturated, yet provides more than a one-inch rainfall holding capacity.
"The Product Innovation Awards identify products that offer innovative solutions for building design and construction challenges," said Jim Crockett, editorial director, Architectural Products magazine. "The judges who reviewed Xero Flor this year praised the submitted ultra-lightweight system as an ideal solution for green roof installations on older buildings where roof load bearing capacity is a limitation. They also commended Xero Flor as the only pre-vegetated mat green roof system with Cradle to Cradle (C2C) Certification for environmental sustainability."
"Xero Flor is an extensive green roof system that utilizes pre-vegetated mats with a patented, textile-based design. Engineered in Germany, it has been proven over more than 40 years of successful installations," said Clayton Rugh, Ph.D., general manager and technical director, Xero Flor America, Durham, N.C. "Xero Flor's lightweight green roof assemblies make green roofs practical — without the need for cost-prohibitive structural reinforcement — for long-span structures, retrofits and new construction with limited load bearing capacity."
The Xero Flor ultra-lightweight assembly that won the 2014 Product Innovation Award from Architectural Products was selected for the five 2,315-square-foot green roofs on the Silver City Townhomes in Milwaukee, Wisc. Located in an inner-city neighborhood, Silver City features 20 rent-to-own, three- and four-bedroom townhomes that provide high-quality, sustainable and affordable housing for working families earning less than the area's median income. Silver City's signature green building element, the green roofs retain about 164,000 gallons of stormwater annually.
"With the townhomes' wood frame construction and restricted load capacity, light weight was a key factor in selecting a green roof system," said Mark Knapp, AIA, principal architect, Quorum Architects, Inc., Milwaukee, Wisc. "Xero Flor offered the lightweight option that enabled us to include green roofs."
The Xero Flor - Silver City project won an Award of Excellence, presented on November 13, 2014 at CitiesAlive, the annual green roof and green wall conference conducted by Green Roofs for Healthy Cities.
About Xero Flor America
Founded in 2002 and headquartered in Durham, N.C., Xero Flor America is the official and exclusive distributor in the U.S. for the Xero Flor Green Roof System. Engineered by Bonar Xeroflor (Groß Ippener, Germany), and refined over more than four decades of R&D, Xero Flor's advanced pre-vegetated mat technology has been proven successful and sustainable in tens of thousands of flourishing installations that cover hundreds of millions of square feet worldwide. In the U.S., it has been installed in 38 states since 2002. For all projects in the U.S., Xero Flor is 100 percent American made and regionally grown on local, independent farms. For more information, visit http://www.xeroflora.com.
— end —
Xero Flor Media Contact:
David Aquilina
Strategic Storyteller
(612) 716-5628
davida[at]strategicstoryteller[dot]com