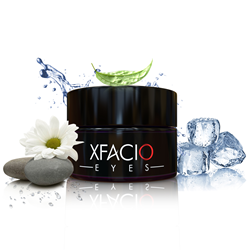 as with all of our Xfacio products, we offer a love it or your money back guarantee, no questions asked
Atlanta, Georgia (PRWEB) July 21, 2015
Xfacio Labs LLC is pleased to announce the release of their newest skin care product, Xfacio Eyes, for the delicate area around and beneath the eyes. This under eye gel is an advanced eye cream formulation which solves the most common issues suffered by many people such as under eye bags, eye puffiness and dark circles. Using a proprietary formula, this all natural skin care product was specifically created and geared for the area around and under the eyes. The added benefit of combining plant stem cells, Matrixol 3000 and Niacinamide to the formula has greatly increased the efficacy desired of the product. In addition, the use of Biophotonic jars allows the potency of the product to remain both powerful and effective for an extended period of time, far surpassing that of any other packaging method.
Mia Kantor, spokesperson for Xfacio Labs stated "We researched and tested hundreds of different formulations until we came up with this cooling and soothing formula, one that met with our high expectations for an Xfacio product. This combination of all natural ingredients in just the right proportions has shown us excellent results, the only type of results that are good enough to be marketed under the Xfacio Labs brand name." Xfacio reports that the three most common complaints from consumers such as puffy eyes or bags, dark circles and fine lines can all be addressed by this new anti aging eye gel.
To celebrate the launch of this new under eye cream and for a limited time only, Xfacio Labs is offering a discounted coupon valid on Amazon.com only to try out this new eye gel for dark circles and puffiness. Normally retailing for $24, customers can save 25% by entering the code EYES25PC at checkout on Amazon. As with all of the company's products, this comes with an unconditional money back guarantee. Consumers are also encouraged to visit and to like the Xfacio Labs page on Facebook.
To learn more about Xfacio Labs and their complete line of all natural anti-aging skin care products, visit the Xfacio.com website or look for them on Amazon.com.