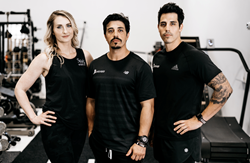 For 11 years, we've been participating in events to benefit Moffitt Cancer Center ...This year, we knew we wanted to do more. We started with a Charity Ride at CycleBar, followed by a Charity Boot Camp + Brunch at DrivenFit, and can't wait for the first-ever XFit Games," said Marco Echeverry
TAMPA, Fla. (PRWEB) September 06, 2019
Local Tampa fitness center, DrivenFit + SWS, is hosting the first XFit Games to benefit cancer research at Moffitt Cancer Center.
Teams of adults will face off fun challenges including a wheelbarrow race, tug-o-war, 3-legged race, obstacle course and more. All proceeds will benefit cancer research at Moffitt Cancer Center in Tampa, Florida.
"We're proud to give back and do our part for important cancer research. For 11 years, we've been participating in events to benefit Moffitt Cancer Center like "Miles for Moffitt". This year, we knew we wanted to do more. We started with a Charity Ride at CycleBar, followed by a Charity Boot Camp + Brunch at DrivenFit, and can't wait for the first-ever XFit Games," said DrivenFit + SWS co-owner, Marco Echeverry.
"Since the infancy of Driven, we knew we wanted to run for something so a big thank you to the Moffitt team for making our reason crystal clear," added Luis Echeverry.
XFit Games Event Details
Date: October 26, 2019
Time: 9AM-12PM
Location:
Fowler Fields 4
11600 USF Bull Run Dr.
Tampa, FL 33620
Want to join the best personal trainers in Tampa for the first XFit Games? Early registration is available until Monday, 9/30/19, $175 per team of 5. After October 1, a team of 5 participants is $250. To register visit http://www.drivenfit.com/xfitgames
About Driven Fit + SWS
DrivenFit + SWS (Sponaugle Wellness Studio) is first of its kind in Tampa – offering Personal Training, Massage Therapy, Chiropractic Care, and Acupuncture at one location. The wellness studio offers the latest in technology to help keep clients, trainers, and practitioners accountable. DrivenFit + SWS takes great pride in showing the whole picture of someone's health. Combined 30 years of experience in health & wellness. This personal training & wellness studio opened in Hyde Park Tampa in November 2017.
For more information visit: https://www.drivenfit.com