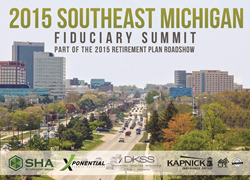 We are excited about the opportunity to have so many industry experts together to share their insight into tools and concepts available today
Troy, MI (PRWEB) March 31, 2015
The 2015 Southeast Michigan Fiduciary Summit will bring together both local and national experts to discuss proactive though leadership and network with local employers made up of finance, human resources and benefits executive. Speakers will provide insights to help employers reduce fiduciary risk, identify plan upgrades, and make better decisions that positively impact participants.
Jon Freye, Founder and Managing Director of Xponential Growth Solutions, states, "Our partners believe the ability to replace a paycheck in retirement should be the ultimate gauge of "success" for a retirement "plan". We are excited about the opportunity to have so many industry experts together to share their insight into tools and concepts available today to measure and manage this objective."
The educational event will be hosted by Kelley Snook, AIF - President SHA Retirement Group alongside Vice Presidents, David Anderson AIF, and Elaine Featherstone, AIF. Additional guest speakers include: Jennifer M. Coon, CPA & Senior Manager at DKSS; Robert Crisan, VP of Kapnick Insurance Group; and Diane Gallagher, VP DCIO Practice Management of American Century
Topics of Discussion:
What Every Fiduciary Should Know For 2015
· Target Date Fund Panel
· Target Date Fund Selection/Analysis
· Ask the Expert – Local Professional Panel
· "Reflections in the Mirror" – What Participants Really Think
· Measuring Participant Outcomes
The Target Date Fund Panel will include Senior Personnel from:
· American Funds
· BlackRock
· T. Rowe Price
The 2015 Southeast Michigan Fiduciary Summit is the fifth stop of the 2015 Retirement Plan Roadshow and will be held at Walsh College located at 3838 Livernois Road, Troy, MI 48083 from 8:00 am to 11:30 am (Breakfast will be served). The Southeast Michigan Fiduciary Summit is approved for 3 CPE/CPA credits and 3 HRCI general credits. Seating is limited and priority will be given to local plan sponsors, with a waived $150 registration fee available on a limited basis. Additional details, registration information, and an overview of our Elite Retirement Consultants can be found here:
http://xgrowthsolutions.com/retirement-events/2015/05/2015-southeast-michigan-fiduciary-summit/
About SHA Retirement Group
Since 2004, SHA Retirement Group has advised organizations with the goal of positively impacting the futures of employees while reducing fiduciary risk and overall long term cost. We specialize in 401(k), 403(b), defined benefit, and nonqualified deferred compensation plans. Based in the greater Detroit, Michigan area, SHA clients are colleges, universities, and businesses in the manufacturing, automotive, and service industries. SHA Retirement Group leverages extensive resources to bring suitable solutions to connect retirement plan objectives with a program that is successful, measurable and helps ensure participants' long-term retirement success.
Securities and advisory services offered through LPL Financial, A Registered Investment Advisor, Member FINRA/SIPC.
About Xponential Growth Solutions
Xponential Growth Solutions (XGS) unites 401(k), 403(b) and retirement plan sponsors with elite resources and exclusive connections. Through research, fiduciary summits, and industry expertise, they help the nation's retirement plan sponsors, fiduciaries, and trustees evaluate their plan and navigate the retirement plan industry. Working to help America reach their retirement goals one retirement plan at a time, XGS also founded the Retirement Plan Roadshow, a national series of fiduciary educational summits dedicated to human resources, finance and business professionals in charge of America's 401(k), 403(b), and retirement plans.