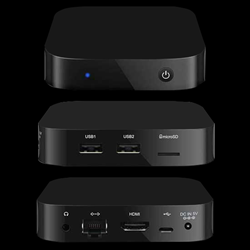 Xhibit Mykro is a powerful digital signage solution that gives users an affordable, flexible, and customizable graphic engine to drive effective communication. It makes any public space display a truly dynamic communicator.
Sterling, VA (PRWEB) September 24, 2015
Mvix has launched its newest and most affordable digital signage solution. Aptly dubbed Xhibit Mykro, the networked signage system is consolidated into an ultra-small form factor, at a one-time (no subscription) cost of $259. Equipped with the state-of-the-art, cloud-based software, XhibitSignage, this networked signage player supports HTML5 media playback, playlist management, comprehensive scheduling options and a multi-role user management.
Xhibit Mykro, an organic extension of Mvix's digital signage platform, is the company's latest innovation in its affordable digital signage lineup. With the web-based XhibitSignage CMS and integration with SignageCreator, users can easily create, manage and distribute content. Keeping the message fresh, effective, dynamic and up-to-date is not a problem with Xhibit Mykro.
Zoned templates allow users to mix their message with full HD 1080p video, stunning images, RSS feeds, custom text tickers, PDF slideshows, a digital or analog clock and date/calendar display. Effective media animations can be positioned anywhere on the screen to bring the content to life. The powerful and free CMS enables users to make changes on the fly, always keeping content current. Additionally, a versatile, simple and intuitive playlist creator and scheduler drives graphic content, making content delivery an automated process so users can "set it and forget it."
"Choosing a reliable and easy-to-install media player is one of the first milestones in deploying a successful digital signage project," said A. Jay, the Mvix Sr. Director of Business Relations. "Xhibit Mykro is designed with this in mind, with its unique heat dissipation enclosure, HDMI connector, and commercial grade solid-state design." It simplifies the selection process of the "right" player by offering not only all of the high-performance features, but also the capabilities needed for more efficient deployments, like integrated Wi-Fi and LAN. Built to last with utmost reliability, the robust metal chassis ensures the player withstands high loads of professional applications.
Mvix designed Xhibit Mykro to be a cost-effective but high-end digital signage solution for budget-conscious end users. Despite its small size and low price point, there is no compromise to the functionality and performance of the self-contained digital signage player. "Small, dynamic media, budget-friendly -- all of the Mvix performance features and benefits you've come to expect," added A. Jay. "Simply put, Xhibit Mykro is the best-priced performance media player."
Xhibit Mykro also keeps the implementation of digital signage simple. It comes deployment-ready, guaranteeing ease of use and is perfect for both the experienced user and the ones new to digital signage.
"Xhibit Mykro is a powerful digital signage solution that gives users an affordable, flexible, and customizable graphic engine to drive effective and efficient communication," said A. Jay. "Nothing could be simpler or more efficient. Generating the highest quality crisp HD graphics, it makes any public-space display a truly dynamic communicator."