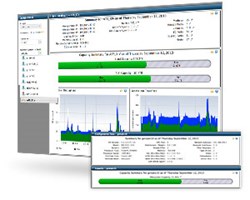 This new performance monitoring tool agent tracks 226 metrics in 93 charts.
Malvern, PA (PRWEB) September 26, 2013
Galileo Performance Explorer™, a cloud-based performance monitoring tool for server and storage systems—has released two versatile infrastructure charting tools for IBM® XIV® storage systems and IBM® AIX® operating systems. A new XIV storage agent extends the power of Galileo's IBM storage monitoring to this popular storage system. Enhancements to the existing AIX agent add configuration and capacity data within the Galileo portal.
"The opportunities for XIV storage monitoring are the most extensive of any Galileo agent to date," says Tim Conley, co-founder of Galileo Performance Explorer. "This new performance monitoring tool agent tracks 226 metrics in 93 charts encompassing subsystems, modules, pools/pools cache, volumes/volumes cache, hosts/hosts cache, ports, and host ports." Its addition expands Galileo coverage to 335 charts and 519 metrics across three server and three storage agents. The new XIV agent also enables users to view configuration and capacity data right within the Galileo portal.
Galileo's recently upgraded agent for AIX server performance monitoring gives administrators the ability to incorporate server configuration and capacity data within their custom dashboard in the Galileo portal as well. It aids their ability to understand Galileo report data without having to log into the server directly.
Both new Galileo capabilities are accessible for evaluation via a free 30-Day trial program.
About Galileo Performance Explorer
Galileo Performance Explorer™ improves IT utilization and capacity planning with convenient cloud-based performance monitoring. Galileo delivers hundreds of analytical perspectives on server and storage hardware and virtualization environments for key decision makers. These deeper insights go far beyond reactive alarms to support optimal performance of physical and virtual servers and storage, supporting IBM® AIX®, Linux®, Windows®, and IBM® SVC, Storwize® V7000, XIV®, and DS3/4/5K storage. Built on an innovative SaaS architecture, Galileo installs in minutes, without onsite data or expensive hardware requirements. Automatic collection of real-time data, with quick, easy, graphical reporting via an intuitive web interface, offers access to custom dashboards with full drilldown into data details, anywhere, anytime. Galileo empowers users from IT administrators to C-level management at mid-size to Fortune 100 companies, including leaders in security-sensitive industries.