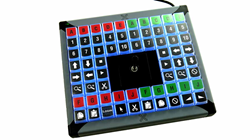 Birmingham, West Midlands (PRWEB UK) 13 March 2014
With PI Engineering launching a new selection of programmable keypads and accessories, Keyboard Specialists Ltd (KBS) are proud to offer and stock the full range including key caps, buttons, interfaces and key pullers.
A new addition of the X-keys family is the XK-68 plus Joystick (XK-0989-UBJ68-R) which has 68 fully programmable keys plus integrated programmable joystick. Supplied with MacroWorks III software, the XK-68 plus Joystick can be programmed for use in a multitude of environments; simulation, short cuts, TV producing, radio editing, CCTV surveillance and IT programming being just a small selection. This also comes with adjustable back lighting as standard and accessories such as key legends, dual or quad key caps and extension cables are also available.
One of the most popular X-keys items is the USB Switch Interface (XK-1202-UHS12-R) which works by having additional buttons (up to 12) which can be programmed individually to support any short cut/feature required. This item is particularly popular with TV producers who programme multiple buttons through the USB Switch Interface to help them manage the variety of tasks they are faced with during filming.
KBS also offer technical support for X-keys and have live chat, telephone and email facilities.
With worldwide distribution and great stock levels, KBS is the ideal place to browse and purchase the entire range of X-keys products.
About Keyboard Specialists:
KBS is the leading UK supplier of medical, industrial and educational keyboards and IT accessories, meeting the requirements of some of the biggest organisations across the world. The company has quickly established itself amongst the leaders in specialised IT hardware distribution and offers worldwide delivery options to suit any business, using globally recognised logistical partners to deliver items quickly, securely and conveniently.
Please visit http://www.keyboardspecialists.co.uk for more details.