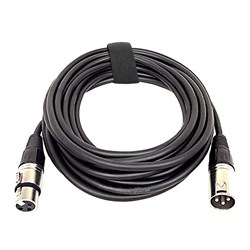 California (PRWEB) September 08, 2013
XLR male to female microphone cable by Dot&Dot is now available with discount coupon. Using coupon code JFFSPFFB can get 20% off on the product. Customers can purchase as many as they want.
Dot&Dot's 25-foot XLR cable is now available with discount coupon offer. The first 100 customers would get the product at an attractive discount of 20% off using JFFSPFFB coupon code.
The company is reputed to manufacture and distribute highest quality microphone cables. According to Stephen Cua, the spokesperson of the company, "We are glad to announce the discount offer on our product. This is a limited period offer and is available on first-come-first-serve basis to 100 customers."
He adds that Dot&Dot is a reputed manufacturer of cables and connectors with guaranteed excellence in signal integrity. The female end of the locking connector pin is engrossed with a durable rubber grommet that effectively helps to keep the connected jack ends in proper place every time. In addition, a Velcro strap also ensures appropriate packing of the cable connector when it is not in use.
The spokesperson of Dot&Dot Cables said, "We have scientifically designed our professional connecting cables so that they offer you best quality equipment required in recording studios for minimal impedance from microphone signals. Our XLR male to female connectors deliver effective signal transfer at minimal loss due to a combination of RF protective shielding."
According to the product description at http://www.amazon.com/XLR-Male-Female-Microphone-Cable/dp/B00CTHNM52, this XLR male to female cable for microphones is highly balanced, heavy duty in nature and even double shielded to offer effective signal transfer for experiencing clear sound that is necessary for any sound recording studio. The cables are also manufactured of highly durable materials to last a lifetime. They are highly effective to eradicate any hissing sound, or related annoying noises of electrical or magnetic interference.
Mac Luhan, a sound engineer says, "I was looking for male to female connecting cables to organize sound system for an upcoming concert and came over Dot&Dot XLR male to XLR female microphone cables. Even the additional discount coupon has helped me save some money. I am lucky to be one of the first 100 customers to enjoy this fabulous offer."
Dot&Dot XLR male to XLR female cables are durable, microphone connecting cables with heavy-duty rubber jacket and best quality connector ends made of durable metal. The cables also come with RoHS certification.
About: Dot&Dot's XLR male to XLR female microphone cable is a three pin male to female connector that guarantees integrity of signal and offers extraordinary strain relief. The cable offers appropriate amplification and transfers maximum signal with minimum loss. It delivers quality sound every time. To get 20% off, visit http://www.amazon.com/XLR-Male-Female-Microphone-Cable/dp/B00CTHNM52 and enter the coupon code JFFSPFFB upon check out.