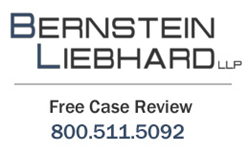 Patients who allegedly suffered these types of Xolair side effects may be entitled to compensation for their injury-related damages.
New York, New York (PRWEB) October 01, 2014
The nationwide law firm of Bernstein Liebhard LLP is now evaluating Xolair side effect claims (http://www.consumerinjurylawyers.com/xolair-lawsuit) on behalf of individuals who allegedly suffered serious health issues that may be related to their use of the injectable asthma medication. According to the U.S. Food & Drug Administration (FDA), patients using Xolair may face a slightly increased risk of serious cardiovascular and cerebrovascular adverse events, including:

Mini-strokes (also known as transient ischemic attacks or TIAs)
Heart attacks
Pulmonary hypertension (high blood pressure in the arteries of the lungs)
Blood clots in the lungs and veins
On September 26, 2014, the FDA announced that new information detailing these potential complications would be added to the "Adverse Reactions" section of the Xolair label.
"Patients who allegedly suffered these types of Xolair side effects may be entitled to compensation for their injury-related damages. Our Firm is especially interested in hearing from younger Xolair users who may have experienced these issues, as these events are normally rare in young people," says Bernstein Liebhard LLP, a nationwide law firm representing victims of defective drugs and medical devices. The Firm is now offering free case reviews to anyone who may have been harmed by Xolair.
FDA Xolair Warning
According to the FDA, Xolair (known generically as omalizumab) is an injectable asthma medication approved for use in patients 12-years-old or older whose asthma is not easily controlled with inhaled corticosteroids, and who have an elevated substance called IgE in their blood. Xolair is also approved to treat patients 12-years-old-and older years with chronic hives without a known cause that are not controlled with antihistamine treatment.
In its September 26th alert, the FDA said that it was modifying the Xolair label with new information regarding the risk of serious cardiovascular and cerebrovascular adverse events following the completion of a review it had begun in 2009. That review, which looked at results from one five-year study submitted by the drug's manufacturer, as well as 25 other studies comparing Xolair to a placebo, suggested a slightly increased risk of problems involving the heart and blood vessels supplying the brain among patients being treated with the medication. The FDA noted that while its findings were indicative of a serious safety signal, certain limitations meant it was "unable to definitively confirm or determine the exact increased level of these risks with Xolair."
Individuals who allegedly experienced any Xolair complications affecting the heart or blood vessels that supply the brain may be entitled to compensation for their medical bills, lost wages, pain and suffering and more. To learn more about filing a Xolair lawsuit, please visit Bernstein Liebhard LLP's website. Free case evaluations may also be obtained by calling 800-511-5092.
About Bernstein Liebhard LLP
Bernstein Liebhard LLP is a New York-based law firm exclusively representing injured persons in complex individual and class action lawsuits nationwide since 1993. As a national law firm, Bernstein Liebhard LLP possesses all of the legal and financial resources required to successfully challenge billion dollar pharmaceutical and medical device companies. As a result, our attorneys and legal staff have been able to recover more than $3 billion on behalf of our clients. The Firm has been named by The National Law Journal to the Plaintiffs Hot List, recognizing the top plaintiffs firms in the country, for the past 12 consecutive years. Bernstein Liebhard LLP is the only firm in the country to be named to this prestigious list every year since it was first published in 2003.
Bernstein Liebhard LLP
10 East 40th Street
New York, New York 10016
800-511-5092
ATTORNEY ADVERTISING. © 2014 Bernstein Liebhard LLP. The law firm responsible for this advertisement is Bernstein Liebhard LLP, 10 East 40th Street, New York, New York 10016, 800-511-5092. Prior results do not guarantee or predict a similar outcome with respect to any future matter.
Contact Information:
Felecia L. Stern, Esq.
Bernstein Liebhard LLP
info(at)consumerinjurylawyers(dot)com
http://www.consumerinjurylawyers.com/
https://plus.google.com/115936073311125306742?rel=author