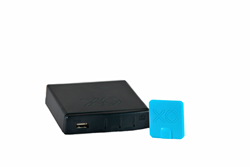 At x.o.ware we ensure data remains private when away from trusted Internet networks using an easy, plug in solution without any recurring fees
BLACK HAT - LAS VEGAS (PRWEB) August 04, 2015
x.o.ware, inc. has announced it is now shipping its innovative hardware encryption product in the United States. The x.o.ware solution provides secure Internet access from an open wireless network, ensuring secure, private access back to a trusted network at home or office.
x.o.ware relies on a hardware encryption gateway, the XOnet, and a USB based XOkey. The products encrypt data end-to-end by physically exchanging and storing information utilizing 256-bit AES encryption and incorporating the IPSec protocol. Meaning, anytime a user is on an unsecure WiFi network, their information is routed back to a remote trusted home or office network. x.o.ware also eliminates the cost of buying certificates, and monthly or annual service fees from a 3rd party VPN provider. In addition to the key management, x.o.ware also allows for remote access to devices on a LAN.
The XOnet is $69.95 and the XOkey is $39.95 but the two are available as a kit for $99 for a limited time directly at http://www.xoware.com. This includes free shipping in the United States.
"Public wireless networks are ubiquitous but are not secure at any level," said Ken Goldsholl, CEO of x.o.ware. "At x.o.ware we are addressing this directly at the end points to ensure data remains private when away from trusted Internet networks using an easy, plug in solution without any recurring fees."
x.o.ware is exhibiting this week at Black Hat USA2015 at the Mandalay Bay Convention Center. (Booth IC39 in Innovation City)
PRESS ASSETS - https://brandfolder.com/xoware