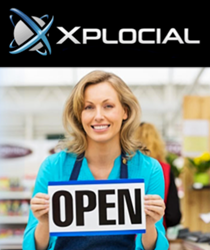 What makes Xplocial so unique is that they provide a unique array of tools that help the small to medium sized business owner take their businesses to the next level of profitability.
Vancouver, BC (PRWEB) August 28, 2013
Faster than a speeding bullet, able to leap entire countries in a single conference call. It's a bird! It's a plane. No! It's the MLM Superhero.
Darren Little, also known online as the MLM Superhero announces that he has recently become an affiliate of Xplocial - a unique category creator targeting the small to medium sized business that provides more leads, more sales and more referrals.
"What makes Xplocial so unique is that they provide a unique array of tools that help the small to medium sized business owner take their businesses to the next level of profitability," said Little, co-founder of the MLM Superheroes.
So many businesses are feeling economic pressures right now and they need access to additional capital to land larger contracts, purchase more inventory or meet payroll obligations until receivables come in. Xplocial can provide these small to medium sized businesses with loans from $5000 to $250,000 with repayment terms of between 3 months and 18 months. Business loans are typically processed in 3 days with cash in hand in 5 days.
What's even more exciting is that through Xplocial's affiliate program, Xplocial affiliates can show the business owner how they can pay back their loan by offering the Xplocial affiliate program to other business owners and their database of customers.
Xplocial helps businesses establish a web presence with their online website builder and hosting as well as 50 customizable lead capture pages to help businesses generate more leads online. Next, Xplocial has an auto-responder and text broadcaster that allows the business owner to communicate with their database of customers and prospects.
Xplocial's marketing and sales training allows business owners to hone the skills of their sales teams driving new sales and increasing their bottom-line.
Xplocial's unique sales and marketing incentives include certificates that provide discounts toward all inclusive vacation getaways, luxury cruise packages, shopping and more. Businesses can giveaway as many vacation incentives as they want without having to worry about cost.
Instead of giving away promotional pens and magnets the Xplocial program allows businesses to give away high-perceived value to their customers that those customers will always remember. Xplocial is not like other companies that will charge their affiliates for a "per certificate fee". The Xplocial Membership entitles Xplocial affiliates to an UNLIMITED number of printed or emailed certificate incentives.
Thanks to the Internet and the delivery method that Xplocial has pioneered, the company has have made it affordable for any business looking to enhance their marketing efforts with top quality incentives.
Little, who has spent the past 25 years launching 30 different products and services into the marketplace including Bingo, Blackjack and Ableauctions, says that the Xplocial business opportunity is exactly what the market needs.
"Not only does Xplocial provide the short term bridge loans for companies that need that little helping hand now and then, but the sales and incentive program is world class. The perceived value of the certificates influences an amazing response from recipients," says Little. "Think about how much more a company could make if they could generate 30 percent more business."
What makes the Xplocial Opportunity so unique is that the company pays 100% commissions to its affiliates. The program costs $24.95 monthly to gain access to a variety of promotional websites, videos and training on how to market the Xplocial opportunity. There are 2 different product levels that businesses, or individuals can enroll - Gold which is $29 and Platinum which is $100.
The first, third and sixth product sales are rolled up to the referrer and the remaining sales are kept by the business or individual that sells the products. Commissions are paid weekly.
For more information contact:
Darren Little
604-771-1901
Skype: DarrenLittle11
http://www.DarrenLittle.com/xplocial