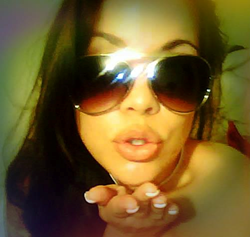 Darren Little, also known online as the MLM Superhero has done it again with his next Facebook campaign called the Pucker Challenge
Los Angeles, California (PRWEB) May 31, 2014
Darren Little, also known online as the MLM Superhero has done it again with the Pucker Challenge.
Men and Women from all walks of life are puckering up and posting their Pucker Pics from all four corners of the world.
"Let's face it. Puckering is an art form," said Little in a recent interview. "Not everyone can master the pucker. It takes talent and skill to bring the lips together in the proper fashion with just the right tension and the right style to really make it all work and make it look attractive, without looking like a duck."
Top marketers such as Darren Little, David Wood, Matthew Aaron, Eric Green, BJ Smith, Tom McMurrain, Angelo Gianni, Joseph Montes, Calvenn Starre and others have already posted Pucker Pics on Facebook and submitted them to the contest.
Men can go here to submit their puckers pics. Women have begun submitting their pucker pics starting with Kaytee Godiva, Kara Cannavo, and Larlin Neumann. Women can go here to submit their pucker pics.
"The Official Internet Kisser Blower" Deanna Amber is currently the leading contender to walk away with the title of Queen of the Pucker. Facebook followers have begun commenting that Amber will win the contest by a landslide. Amber's last opportunity to submit her final Pucker Pic will be Sunday, June 8th at midnight EST when all final entries must be submitted.
Winners will be announced Monday, June 9th 2014.
"It can be a competitive world out there," says Little. "That's why it's important to always be on the cutting edge of creativity and provide incredible value once your viewers see what it is that you actually do. If you are not setting yourself out from the crowd, you just become another number."
Little says that over the course of his 25 plus year career as a marketer that it is his Guerrilla Marketing Campaigns that have gotten him the most amount of exposure in the least amount of time.
Little has recently taken a position on the Advisory Board with an online company based out of Melville, New York called Xplocial.
The Xplocial GOLD Membership Plan Is Just $29 Monthly and entitles companies to great Member Benefits and to give away Certificates for Exciting All-Inclusive Vacation Getaway Packages, Luxury Cruise Packages, Shopping Discounts And More To Your Clients and Customers. Companies can give away as many of these Sales Incentives as they want without having to worry about cost.
The PLATINUM Membership Plan is Only $100 Monthly (Affiliates must also be a Gold Member) and includes Xplocial University, Lead Capture Page System, Sales and Marketing Training, and a Website Builder with web hosting included.
"By incorporating just one extra sentence on the bottom of emails to their customer base, companies can add $25,000 a month to their marketing budgets with as few as 200 Platinum Members," says Little. "In over 25 years of marketing I've yet to see this much value provided to business owners for such a low monthly fee."
Xplocial's Sales Training helps business owners professionally train their sales staff to dramatically increase their bottom-line each and every month.
For more information contact:
Darren Little
Phone: 604-771-1901
SKYPE: DarrenLittle11