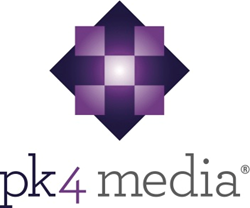 We created XPS Direct for the future of media buying, using a sleek, responsive application that can be accessed on any web-enabled device.
Los Angeles, CA (PRWEB) October 27, 2014
PK4 Media, a performance-based digital media company, today announced their newest product, XPS Direct, is in private beta. XPS Direct is a new programmatic direct web application with streamlined access to audience-segmented premium inventory. The application simplifies the media buying process with an easy-to-use, self-service web application that allows users to build target audience profiles and run display and video advertising campaigns through XPS™, PK4 Media's proprietary cross-platform technology solution.
"Our advertising partners need a feature-rich self-service portal to streamline the process of reaching their audiences," said Tom Alexander, Founder and CEO of PK4 Media. "We created XPS Direct for the future of media buying, using a sleek, responsive application that can be accessed on any web-enabled device. The deceivingly simple interface is backed by our powerful XPS™ cross-platform technology that helps advertisers focus on their audience by utilizing robust reporting data to make sure the right person sees the right ad at the right time on the right device."
XPS Direct was built in-house using Ember.js and is modeled after Google's Material Design principles. Advertisers using the application will enjoy the fluidity, simplicity and instantaneous responsiveness the application has to offer. In addition, publishers on the platform are aligned to industry standard IAB audience categories. comScore Media Metrix® and Similarweb are also used to source demographic and segmentation data. Using the application is as simple as defining a target audience, uploading creative or inserting 3rd party creative tags, choosing flight dates, and submitting for approval. Extensive reporting is provided at no additional cost to allow advertisers to monitor campaign progress in near real time.
PK4 Media works directly with publishers so premium inventory can be secured for guaranteed rates, based on targeting variables, and ads are never shuffled through an exchange. XPS Direct is an extension of PK4 Media's XPS™ cross-platform technology, which delivers and optimizes campaigns on desktop, mobile and tablet devices. XPS Direct is currently open to a select group of advertisers.
About PK4 Media
Headquartered in Los Angeles, PK4 Media is a digital media company in the advertising technology industry with a platform that maximizes the value generated by display and video views across online, tablet and mobile devices. Named one of America's Most Promising Companies by Forbes, it delivers highly targeted digital advertising through its cross-platform technology, programmatic direct platform, patent-pending video technology platform, premium content video library, data tracking engine and a digital ad distribution network of more than 5,000 hand-selected websites. Founded in 2009, PK4 Media's clients are advertisers, content creators and website publishers and include companies such as Amazon, Amgen, AT&T, NBCUniversal, Procter & Gamble and others. For more information please visit pk4media.com.