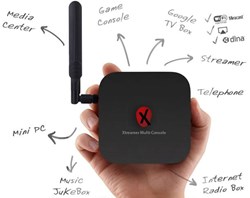 Xtreamer - Why Pay More ?!
Seoul, South Korea (PRWEB) January 15, 2014
Xtreamer LTD, a global innovator and manufacturer of media streamers, Mobile smartphones, mini-PCs and accessories, today releases the new Xtreamer Multi-Console series with Quad Core technology. The new all-in-one media hub and android game console incorporates the latest RK3818 processor for great day-to-day performance and excellent energy efficiency.
"Our engineers continue to boost performance of our Xtreamer Media centres. The latest Xtreamer Multi-Console raises the bar for CPU and GPU performance for that class and form factor," said George Lee, senior director, Xtreamer International. "It's amazing what kind of performance we're able to extract out of such a tiny small device."
"Our target was to come up with an all-in-one entertainment system that delivers direct access to the biggest names in games, movies and series to your TV in up-to 1080p HD. We wish the user to be able to just plug it in and enjoy a whole world of Android, Emulators and Retro games, and his favourite movies, music, sports and live TV coming together in one place" .
"The ability to show anything that's on your Tablet, Mac or iOS device on your HDTV with AirPlay, MiraCast or DLNA is something valuable for most modern users", Mr. George lee concluded..
Android 4.2 enhances the Multi-Console with high-definition video decoding acceleration and compatibility for stunning android games playback and snappy system response of google play applications. A trio of networking technologies – Dual networking, strong and stable 802.11n and Bluetooth 4.0 – ensure the Xtreamer multi-console has lightning-fast networking performance via wires, wireless and with peripherals.
It's time to play with the Xtreamer Multi-Console
General details

Xtreamer Releases Multi-console
Rockhip 3818
1.6 GHz, quad-core, 2MB L2 cache
◦ Mali 400

available with preinstalled apps
◦ 16GB DDR3
◦ Ext SD Card

HDMI 1.4a output
802.11n Wi-Fi & Bluetooth 4.0 w/ external WiFi antenna
Ethernet
Xtreamer is a Korean based company formed in 2006 with a compelling mission to manufacture consumer electronic media devices, Mini PCs and Smartphones distinguished by their aggressive price, innovative features, manufacturing qualities, functionality and design.