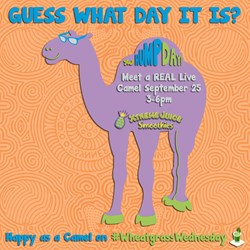 This event will be fun for the whole family and will be a great way for us to share the afternoon with our customers as well as hopefully show some new faces what Xtreme Juice is all about.
Tampa, FL (PRWEB) September 20, 2013
Xtreme Juice, Creative Loafing Tampa's Best of the Bay winner for Best Smoothie & Juice Shop, announced that on Wednesday, September 25th, they will be hosting an event for the whole family to celebrate "Hump Day", their weekly Wheatgrass Wednesday special and of course to commentate their 8th time winning the Best of Bay. From 3 p.m.- 6 p.m., at their store on South Dale Mabry, Xtreme Juice invites customers of all ages to visit and get your picture taken with a real live camel.
Every Wednesday, Xtreme Juice features Wheatgrass Wednesdays, where health-conscious customers can get a vitamin-loaded wheatgrass shot for just $1, or a double shot for $2.
Xtreme Juice, a South Tampa favorite, is known for their smoothies featuring high quality ingredients and real fruit (no powders or mixes!). They have recently expanded their fresh juice menu to include spinach and kale, and have added caffeine to their menu of optional "smoothie boosters."
Owner and camel enthusiasts Chris and Karrie Mueller are excited about the event on September 25th. "At Xtreme Juice, our customers are the most important part of our business and we are constantly looking for ways to remain the best smoothie and juice bar in South Tampa," said Chris Mueller. "This event will be fun for the whole family and will be a great way for us to share the afternoon with our customers as well as hopefully show some new faces what Xtreme Juice is all about."
About Xtreme Juice
Xtreme Juice was founded in 1997 in Tampa, Florida and is owned by Chris and Karrie Mueller. The company prides itself on serving the best smoothies and fresh juices in the cleanest and friendliest environment. To learn more about Xtreme Juice, visit: http://www.xtremejuice.com