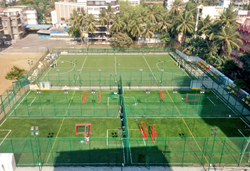 In highly urbanised markets with limited space, quality synthetic turf is a durable, lower-maintenance solution for sports infrastructure development.
Austin, Texas (PRWEB) June 23, 2016
Historic St. Andrews School, located in the western suburbs of Bandra in Mumbai, India, has just upgraded its sporting facilities with brand new artificial turf sports pitches from Act Global.
The artificial turf development was funded by Infinite Sportss, a sports infrastructure focused team of professionals dedicated to making the best international turf systems available to players and facility owners in west India and beyond. The clients chose Act Global Xtreme Turf due to its performance characteristics, durability and the company's reputation as a leading industry expert. Exclusive partner Quad Sports has installed the fields in cooperation with Act Global's local technical expert, to include 5,000m2 of synthetic turf in total.
"Act Global has secured valuable partnerships in India which help bring the best quality turf systems in the market at affordable pricing," said Daniel Clapham, regional sales manager for Act Global. "We believe this model can be successfully replicated in other highly urban areas across India and can help in the continuing improvements of sports infrastructure in major cities."
The side-by-side pitches feature two distinct turf systems to meet the various sporting needs. Both pitches were manufactured at Act Global's production facility in Aalten, Netherlands, and feature the most durable, high quality fibres from Bonar Yarns.
Act Global's Xtreme Turf SD18 system covers a multi-purpose use field, which features a short, dense, durable pile ideal for hockey and various other sports. The pitch is installed over a PP20D Schmitz pad to offer added safety and performance, as well as a horizontal drainage design to cope with the heavy rains in West India.
The second pitch includes a high-performing football turf system, which has been used successfully in sports stadiums around the world. A tufted blend of monofilament fibres offers the ideal balance of durability, softness and resilience for optimal player comfort and performance.
Mumbai Metropolitan Area is one of the most densely populated urban areas in the world with over 20,000,000 people—approximately 20,482 persons per square kilometre. In highly urbanised markets with limited space, synthetic turf is a durable, lower-maintenance solution for sports infrastructure development. By focusing on quality, field owners maximize the value of their investment, while also promoting greater utilization of recreational land.
Outside of school hours the facility is open to the public on a 'pay as you play' basis, which helps generate additional revenue for things like upkeep, maintenance and investing in additional sports developments. Unlike natural grass, the durable synthetic turf can be used 7 days a week, accommodate multiple sports and more players, and reduce field closures for inclement weather conditions.
"Buyers won't get the same return on their investment with lower-end products," said Clapham. "In cooperation with our installation partners, we are committed to bringing high quality turf systems to these urbanised areas."
###
About Act Global
Act Global is a world leader in synthetic turf technology, with manufacturing facilities on three continents and sales in more than 70 countries. The company carries a full range of products for sports (Xtreme Turf and Xtreme Grass), landscaping (Xtreme Lawn), aviation (AvTurf) and land reclamation (LiteEarth). Act Global is a FIFA Preferred Producer for Football Turf, Synthetic Turf Council Certified Manufacturer, World Rugby Preferred Turf Producer, FIH Preferred Supplier, and holds ISO 9001 Certification. Its products have undergone hundreds of independent laboratory tests for quality, durability, safety, environmental soundness and performance.