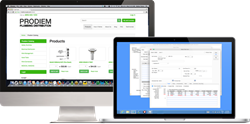 Rapid disruption that leads to permanent change is rampant in the wholesale distribution business, and competing online is leading the innovation.
Norfolk, Virginia (USA) (PRWEB) October 06, 2015
xTuple open source business management software introduces xTupleCommerce — to help distributors and their manufacturer partners sell more products online and better service customers — at the 2015 Annual Meeting of Equity Plumbing Group, known as one of America's primary gatherings for independent wholesale plumbing distributors.
Distribution operations professionals gather at the meeting this October 13-14, 2015, at The Westin Peachtree Plaza and adjoining AmericasMart Convention Center in Atlanta, Georgia.
Mission-driven to help companies of all sizes successfully implement powerful, and easy-to-use, open source Enterprise Resource Planning (ERP) software to grow their business profitably, xTuple now delivers direct self-service, 24/7 around-the-clock access, from anywhere in the world to an organization's business partners and customers.
As noted in "The 800-Pound Gorilla's Baby" article in Equity Group's Summer 2015 issue of "The Plumbing Advocate" publication, distributors must innovate to not just compete but to beat big online suppliers, such as Amazon Business (formerly launched as AmazonSupply in 2012) and other Web-dedicated plumbing equipment sites.
"Rapid disruption that leads to permanent change is rampant in the wholesale distribution business, and competing online is leading the innovation. Distributors can better compete and succeed by growing their business — selling more products online, and more profitably — with tools such as xTupleCommerce," said Rick Murchake, xTuple director of special projects, who will be demonstrating the product at Equity's annual meeting.
xTuple ERP empowers every enterprise with eCommerce — seamlessly connecting online, retail, wholesale, supplier, inside and outside sales. xTupleCommerce is a robust business application used by organizations doing large business transactions.
xTupleCommerce users report new monthly sales in the hundreds of thousands of dollars, from both existing and new customers.
Distributors with Customer Service and Sales Representatives use xTupleCommerce to represent many customers of their own and make purchases on behalf of each customer. This allows for fast and efficient order-processing with notifications, special pricing, and more upsell opportunities. Managers may also log in and see each customer's pending orders, saved carts, current cart of items, shipping addresses, etc., and even process an order on behalf of a customer.
xTupleCommerce customers report that their customers find the system to be efficient, intuitive, and much less an eCommerce site than a customer service-oriented business tool. There is no learning curve, ramp-up time, or training required. New customers go "live" with their xTupleCommerce site and start seeing the benefit in increased revenue and improved customer satisfaction.
Traditional eCommerce systems can charge upwards of hundreds of thousands of dollars, while the cost of xTupleCommerce can be recouped with the increase in revenue achieved in just one year, an impressive return-on-investment (ROI).
"When the sites go-live and orders start coming in overnight, or from buyers that the website owner has never met, it becomes obvious to our customer that xTupleCommerce is a 24-hour sales machine," said Josh Fischer, manager of xTuple Web Services Group.
xTupleCommerce is available as a quick and basic, templated site or as a large-scale, customized project, and a sample site is available for guided demonstrations.
xTuple is a proud sponsor of Equity Plumbing, the power behind Wholesale Distribution. Learn more at http://xTuple.com/solutions/distributors.
Tweets
#Distribution operations professionals get first look at integrated #ERP & #eCommerce | LINK #EquityPlumbing
#OpenSource xTuple at #plumbing #wholesaledistribution Premier Event | LINK #EquityPlumbing at @AmericasMartATL
Debuting xTupleCommerce at 2015 #EquityPlumbing | LINK via @xTupleWSG
Tags
#ENSW #ERP #wholesaledistribution #distribution #logistics #eCommerce #opensource #FABTECH2015
About Equity Plumbing
Equity Plumbing is a national marketing group providing a wide range of marketing resources and services to over 400 independent wholesale plumbing and polyvinyl fluoride (PVF) distributors with a collective purchasing power approaching $2 billion annually. Over 100 industry leading manufactures/suppliers and service providers work closely together to develop strategic relationships, build market share and maximize profitability for members. Headquartered in Concord, Ohio (USA), Equity Plumbing has formed working relationships with several industry organizations and publications including American Supply Association (ASA), the Association of Independent Manufactures / Representatives (AIM/R), The Wholesaler and Supply House Times. Learn more at http://www2.equityplumbing.com.
About xTuple, the world's #1 open source ERP
BOSSIE/Best of Open Source Awards 2015: xTuple tops best open source applications xTuple named InfoWorld's top pick in open source business applications. ERP, CRM, HRM, CMS, BPM — they're the engines behind every modern business. Read more about BOSSIE Awards.
Award-winning xTuple, makers of the world's leading suite of open source accounting, Corporate Relationship Management (CRM) and Enterprise Resource Planning (ERP), is supply chain management software for growing businesses to control their operations and profitability. xTuple integrates all critical functional areas in one modular system: sales, financials and operations — including customer and supplier management, inventory control, manufacturing and distribution — the powerful tools to Grow Your World®.
As a commercial open source company, xTuple works with a global community of tens of thousands of professional users. xTuple gives customers the ability to tailor solutions with multi-platform support for Windows, Mac, Linux and mobile as well as flexible licensing and pricing options. Join the innovation conversation with the open source community at http://www.xTuple.com.
More on Equity Plumbing
Media Contact
xTuple Style Guide (XSG)