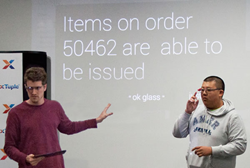 Innovation in engineering, design, and improving the way people use technology has been the hallmark of his [Steve Wozniak's] career.
Norfolk, Virginia (PRWEB) July 22, 2014
'Days of Future Apps' aptly describes the theme for xTuple's global ERP user conference this October, as the complete xTupleCon14 agenda is announced.
In addition to hearing opening speaker Steve Wozniak, co-founder of Apple Computer, Inc., and Chief Scientist of Fusion-io, xTupleCon14 attendees will enjoy an exclusive pre-talk reception to personally meet-and-greet 'Woz,' the Silicon Valley icon and philanthropist.
"It's fitting that we're kicking off xTupleCon14 with Steve Wozniak," said xTuple CEO Ned Lilly. "Innovation in engineering, design, and improving the way people use technology has been the hallmark of his career. Exciting new things are happening in the world of ERP as well, and we can't wait to share them with our global community."
The pre-conference activities kick off with a two-day series of deep-dive training workshops, part of xTuple University, now in beta. The opening keynote and reception with Wozniak happens Tuesday night, followed by over 30 sessions on Wednesday and Thursday, in tracks dedicated to business, operations and technology.
Attendees will hear real world case studies of companies innovating with new xTuple technologies such as mobile warehouse scanners and workflow tools, real time eCommerce websites for trade and consumer customers, and specialized new offerings for industrial distributors and manufacturing quality management. Noted ERP analyst Cindy Jutras will also focus on innovation in her keynote, "ERP Trends Converge: Translating Technology for the Enterprise."
The conference will also feature non-technical addresses from regional leaders in the military, industry and government:

Captain Robert N. "Goose" Geis, Chief of Staff for U.S. Navy Region Mid-Atlantic, on leadership and the value of training, featuring incredible true stories of crisis management
Sara Russell of Old Dominion University's Strome College of Business, Maritime Institute, on "Supply Chain Management Trends — Big Ships & Deep Canals Impact on Your Business"
Karen Jackson, Secretary of Technology for the Commonwealth of Virginia, serving in the cabinet of Governor Terry McAuliffe
Paul Fraim, mayor for the East Coast port city of Norfolk, Virginia, for 20 years
Attendees will experience a special preview of xTuple for Google Glass, an emerging technology with the potential to revolutionize how we do certain jobs, including warehouse operations. During the Thursday evening reception, before the closing awards dinner, attendees can participate in a lighthearted 'relay race' pitting xTuple Glass against xTuple's mobile and wired warehouse offerings.
Steve Hackbarth, director of xTuple software development, leads several technology-track sessions and workshops, including discussions on the hybrid of desktop/mobile compatible platforms and next generation collaboration with GitHub. Winners of the company's month-long hackathon, haxTuple, managed on GitHub, will be presented their prizes during the conference-ending Community Awards dinner.
BC Wilson, director of xTuple cloud services, offers manifold opportunities for xTupleCon14 attendees to learn more about the cloud and what it means for today's enterprises – including cost savings, business continuity, greater security, and the important differences between public and private clouds (and the ability with xTuple to move back and forth between the two).
Mike Atherton, xTuple product evangelist, lead trainer, and xTupleCon13 audience favorite, expands on "ERP Blunders and How to Avoid Them," as well as multiple sessions in advanced xTuple functionality and insights from the dozens of successful ERP implementations he's helped accomplish over the years.
Registration is open until September 15, 2014: https://xTuple.com/xtuplecon14.
Tweets:

Welcome to Days of Future Apps #xTupleCon14 full agenda announced
Catch @ERP_cindyjutras talk on business benefits of technology #xTupleCon14
Decorated USN leader "Goose" addresses value of training (military or business) & no casualties
Meet government #techinVA (and beyond) leader @KareninVA at #xTupleCon14
Nothing like an official city welcome from @NorfolkMayor Paul Fraim #xTupleCon14 #NorfolkVA
Maritime, ports, logistics management, international business via @ODUStromeBUSUGA learn more at #xTupleCon14
About #xTupleCon14
Held in the downtown business district at the premier Norfolk Marriott Waterside Hotel and Conference Center, the annual xTupleCon brings together a global community of open source technologists and ERP users to learn, collaborate and innovate. For 2014, attendees experience two days of in-depth pre-conference hands-on workshops, a VIP welcome reception, awards dinner, door prizes, invaluable training, and more. xTupleCon14's week-long events run Monday, October 13, through Saturday, October 18, 2014.
About xTuple, the world's #1 open source ERP
Award-winning xTuple, makers of the world's leading suite of open source accounting, Corporate Relationship Management (CRM) and Enterprise Resource Planning (ERP), is supply chain management software for growing businesses to control their operations and profitability. xTuple integrates all critical functional areas in one modular system: sales, financials and operations — including customer and supplier management, inventory control, manufacturing and distribution – the powerful tools to Grow Your World®.
As a commercial open source company, xTuple works with a global community of tens of thousands of professional users. xTuple gives customers the ability to tailor solutions with multi-platform support for Windows, Mac, Linux and mobile as well as flexible licensing and pricing options. Connect with the company at xTuple.com, with the open source community at xTuple.org, and join the innovation conversation at NextBusinessBlog.com.
CIO Review named xTuple a top company in the forefront of tackling Manufacturing Technology challenges and impacting today's marketplace.
xTuple Supports Innovation
From blueprints to buildouts, xTuple helps foster startups in the heart of the Mid-Atlantic technology corridor between Research Triangle, North Carolina, and Washington, D.C., as a committed, passionate member of the Norfolk/Virginia Beach tech community. Learn more at xTuple.com/aboutus.
Reference the xTuple Style Guide (xSG): xTuple.com/xSG