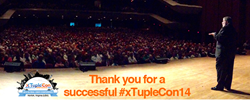 In honor of the sudden passing earlier this year of a beloved partner and friend, this coveted distinction is heretofore known as "Partner of the Year – Dan Means Memorial Award.
Norfolk, Virginia (USA) (PRWEB) November 06, 2014
Open source business software vendor xTuple announces honors for top performers among its customers, partners, and open source community members. The company's successful global user conference posted a 50 per cent growth rate in attendance with conferees traveling to xTuple's headquarters from across the United States and Canada, to as far away as the Republic of the Philippines, New Zealand, Switzerland and Brazil.
Growth in attendance is attributed to the addition of a VIP keynote by Apple co-founder Steve Wozniak and also to open source technology's heightened appeal within the global business community.
xTuple's Community Awards, presented at an event-closing dinner ceremony, kicked off with the annual "Elite Partners" awards. Selected after a rigorous assessment, these top value-added resellers (VARs) and implementers of xTuple products were judged on achievement in sales, marketing, technical expertise, implementation success, and customer support and satisfaction over the past twelve months.
Reaching Elite Partner status again for 2014, celebrating that milestone achievement all four years since the program was introduced, are:

Soluciones Empresariales Open, Mexico – accepted by Alfredo Martinez
Core Services Group, Michigan (USA) – accepted by Scott Zuke
Paladin Logic, Limited, Texas (USA) – accepted by Will Bralick
Additional Elite Partners are:

Muse Systems, Northern California (USA) – accepted by Steve Buttgereit, celebrating his third year in the program
Friendly Systems, Georgia (USA) – accepted by Phil McIntosh, new inductee for 2014
A highlight of the Community Awards presentations is Partner of the Year, and the 2014 recipient is Alfredo Martinez, president of Soluciones Empresariales Open of Mexico, who also achieved the accolade in 2012. In honor of the sudden passing earlier this year of a beloved partner and friend, this coveted distinction is heretofore known as "Partner of the Year – Dan Means Memorial Award."
Deeply experienced in enterprise resource planning (ERP), Dan helped shape the xTuple Partner Program and loved the xTuple open source message, which allowed him the freedom to give his customers exactly what they wanted. Means' California-based consulting company was always a top xTuple sales leader. His deep community involvement was evidenced via his Linux and accounting expertise shared on the xTuple Forums.
The 2014 Community Awards include:

Partner Rookie of the Year – Jeff Rosengarden, new xTuple Gold Partner with erpDevelopers.net, Illinois (USA) – presented by Wally Tonra, vice president of sales
Top Partner Sales – Will Bralick of Paladin Logic, Limited, Texas (USA), xTuple Gold Partner and an avid developer, also known for iOS app development and newest project Madrigal, a mobile port of xTuple PostBooks® for Apple and Android devices – presented by Danielle Kerner, director of partner channel development
Outstanding Implementation – Kelly & Hayes Electrical Supply, New York (USA), represented by Mike Brockey, a retired military pilot whose first major initiative at K&H was to replace outdated Epicor Prophet 21 with xTuple; Kelly & Hayes helped shape xTuple's distribution initiative and is now implementing the xTupleCommerce Web portal solution– presented by Rick Murchake, director of special projects
Community Member of the Year – Daniel Pocock of the Debian Project, (Switzerland) who also presented an xTupleCon session and complimentary after-hours developers workshop at the company's headquarters on how JSCommunicator makes it easy to add click-to-call real-time communications (RTC) to any other Web-based product (including xTuple ERP) – presented by Steve Hackbarth, director of software development
Customer of the Year – Asset STEM Education, accepted by Rebecca Shapiro, Pennsylvania (USA) who started using the free and open source (FOSS) PostBooks® in 2008, subsequently upgrading to Manufacturing Edition and then Enterprise Edition, is also an early adopter of the xTupleCommerce Web portal – presented by xTuple CEO Ned Lilly
The haxTuple prize winner was announced: Keith Rauseo of EMSEAL Joint Systems based in Massachusetts (USA) and Ontario, Canada. A semi-regular event, haxTuple rallies the open source community towards the shared goal of improving the xTuple product suite. Previous iterations of haxTuple were as a bug-fixing derby, while this year's added a wildcard introducing new technologies to community members.
Several senior ERP researchers attended and wrote analyst reports on xTuple and xTupleCon 2014, with prognostications for the future of open source and xTuple as a global ERP leader.
Conference Photos:
xTupleCon14's Photo Gallery
Tweets:
2015 – The Year of the Customer | LINK #xTupleCon14 #ERP
Announced: Top business partners in revenue, growth, community | LINK #xTupleCon14 #ERP
About #xTupleCon14
Held in the downtown business district of xTuple headquarters in Norfolk, Virginia, xTupleCon brings together a global community of open source technologists and ERP users to learn, collaborate and innovate. More at xTuple.com/xtuplecon14.
About xTuple, the world's #1 open source ERP
Award-winning xTuple, makers of the world's leading suite of open source accounting, Corporate Relationship Management (CRM) and Enterprise Resource Planning (ERP), is supply chain management software for growing businesses to control their operations and profitability. xTuple integrates all critical functional areas in one modular system: sales, financials and operations — including customer and supplier management, inventory control, manufacturing and distribution – the powerful tools to Grow Your World®. As a commercial open source company, xTuple works with a global community of tens of thousands of professional users. xTuple gives customers the ability to tailor solutions with multi-platform support for Windows, Mac, Linux and mobile as well as flexible licensing and pricing options. Connect with the company at xTuple.com, and join the innovation conversation with the open source community at xTuple.org.
Reference the xTuple Style Guide: xTuple.com/xSG