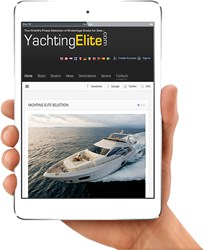 We feel that a yacht is a luxury object, and it should look like one. How can a smartphone or tablet costing a hundred euros look better on the internet than a superyacht, that will set the new owner back six million euros?"
Palma de Mallorca, Spain (PRWEB UK) 25 November 2013
At PalmaConcept S.L., an international team of specialists from the fields of marketing, sales, advertising and software development has come together with expert knowledge in the field of yacht sales. The result of this collaboration is The World's Finest Selection of Brokerage Boats for Sale.
The team of experts has set itself the task to design and develop a portal from the perspective of yacht brokers. The task was called: What is the ideal website for the presentation and the placement of yachts from the high-price segment? What do brokers really want? What do interested customers expect in finding their dream yacht? Named "Yachting Elite," the portal has been created based on these questions.
On http://www.yachtingelite.com brokers can showcase and advertise their listings as the high-value, high-quality products that they truly are. The Portal is focused on providing the best possible presentation for all the listed yachts and boats. Its Reponsive Design guarantees optimal presentation, whether viewed on a desktop PC, smartphone, tablet or other devices. Besides the common features of websites for the sale of yachts and boats, Yachting Elite generates automatically High Quality PDF for flyers, brochures and catalogues. In order to ensure the widest circulation of sales offers, Yachting Elite communicates every advertisement on the most important social media channels, thus increasing the volume of requests to yacht dealers and brokers. The payment model is also unique. Unlike other portals, there is no charge for uploading offers – charge is only incurred once contact has been made with serious customers.
Further information about Yachting Elite and a short video presentation can be seen on http://yachtingelite.com/portal-media-kit.
PalmaConcept S.L. offers web-based Custom Software Development. Based in Palma de Mallorca, Spain the company focuses on tourism, nautical industry and real estate. The aim of the company is to connect buyers and sellers in an most efficiently and economically way.