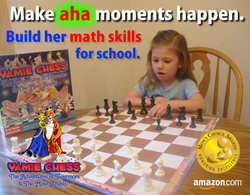 Yamie Chess is a perfect tool for moms to teach their kids chess while also introducing them to important math concepts and engrossing them in a magical story. -- US Chess Champion Jennifer Shahade
Las Vegas, Nevada (PRWEB) May 28, 2014
2-time United States Chess Champion Jennifer Shahade, who created the award-winning K-8 math learning toy, Yamie Chess: The Adventures of Tigermore and the Mind Angels, with experienced US math teachers from Caltech and MIT, is set to host a Yamie Chess children's tournament at Gen Con in Indianapolis, Indiana this August.
Building children's understanding of math skills in core math subjects like algebra, geometry, number, measurement and data analysis, Yamie Chess was launched by the US chess champion at the American International Toy Fair in February, where School Library Journal named the product as a Best Education Pick of 2014.
Jennifer Shahade's charity, 9 Queens in Tucson, Arizona already empowers girls in education using chess.
With Yamie Chess, Shahade and the math education team have combined math, science and chess skills to create a powerful learning tool that is already been used to support underachievers in math and nurture gifted students, in after-school, enrichment programs and indoor recess at Middle Schools and Boy Scout groups.
Having commentated the US chess championships on livestream in St Louis, Missouri this month, where Gata Kamsky and Irina Krush defended their titles, the American Women's Grandmaster Jennifer Shahade is in a unique position to make a positive impact to promote chess in America through the Yamie Chess children's math education event.
Named by the Smithsonian Institution as the strongest American-born women's chess player in history, Jennifer Shahade discussed in her 2005 New York Times Op-Ed, All the Right Moves, ways to promote chess in American life.
The Yamie Chess scouts event serves as a once in a lifetime opportunity for school children to play a United States chess champion.
Official tournament website: https://www.yamiechess.com/jennifer-shahade-chess-champion-gen-con-simul-scouts
Vanderbilt Math Instructor, Patrick Jones explained Yamie Chess for parents and educators on YouTube: http://youtu.be/Mj8-g1w7D-s
About the Girl Scouts of America
Founded in 1912, Girl Scouts of the USA is the preeminent leadership development organization for girls, with 3.2 million girl and adult members worldwide. Girl Scouts is the leading authority on girls' healthy development, and builds girls of courage, confidence, and character, who make the world a better place. The organization serves girls from every corner of the United States and its territories. Girl Scouts of the USA also serves American girls and their classmates attending American or international schools overseas in 90 countries. For more information on how to join, volunteer, reconnect, or donate to Girl Scouts or call (800) GSUSA 4 U or visit http://www.girlscouts.org.
About Yamie Chess
Yamie Chess is a Harvard and MIT-supported, K-8 math learning toy that develops children's math educational skills for school. It's developed by U.S. math educators and engineers from: MIT, Caltech, Columbia, Vanderbilt, Stanford and the University of Arizona, in collaboration with 2-time United States chess champion and American Women's Grandmaster Jennifer Shahade, who is Yamie Chess' resident classical chess expert.