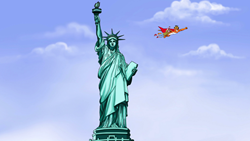 We had a record number of submissions. But our judges loved your awesome film.
Las Vegas, NV (PRWEB) April 08, 2015
Yamie Chess has won official selection to the deadCENTER film festival in Oklahoma City for the company's award-winning debut animation, King Tigermore In Strawberry Fields, which has also won the Canada International Film Festival's The Royal Reel Award in Animation, the 2013 Honolulu International Film Festival's Aloha Accolade in Animation, Best Animation at the Los Angeles Film & Script Festival and won selection on merit to dozens of major U.S. and international film festivals including the 22nd Arizona International Film Festival, Gasparilla International Film Festival, Myrtle Beach International Film Festival, SOHO International Film Festival in New York City, sponsored by Mayor Bloomberg of New York's Office, the Beverly Hills Film Festival sponsored by Coca-Cola and the Johns Hopkins University Film Festival in Baltimore, MD.
deadCENTER is the State of Oklahoma's biggest annual film festival, named after its "dead-center" geographic location in America's cultural heartland, and voted one of the "20 coolest film festivals" in the world by the leading Hollywood and U.S. film industry resource, MovieMaker Magazine. The deadCENTER Film Festival's selection panel have told Yamie Chess Ltd: "We had a record number of submissions, but our judges loved your awesome film."
Made in America and launching on 16th February 2014 at next year's 2014 American International Toy Fair in New York, Yamie Chess is the K-8 scholastic classic chess learning aid for supplemental math, logic and science learning, enabling children to explore the mathematical basis of classic chess through an engaging cartoon chess universe that supports the National Council of Teachers of Mathematics Curriculum Focal Points for STEM education.
The Yamie Chess cartoon, which serves as the animated sequel short film to the math comic in the first learning aid, is now live on YouTube and Vimeo, where it has won official selection on merit to the Kids First! Film Festival, the world's largest children's film festival that is hosted using the Vimeo platform, and whose sponsors include Walmart, AOL Kids, Twentieth Century Fox Home Entertainment, Paramount Studios, Walt Disney Home Entertainment and Universal Studios Home Entertainment.
In Yamie Chess, all the characters correspond and have direct representations to the classic chess pieces on the board, providing an exciting and original visuo-spatial aspect for children to learn the math basis of traditional chess for cognitive development, through a cartoon world.
About Yamie Chess Ltd
Yamie Chess is a member of the Toy Industry Association, the National School Supply and Equipment Association, the American Specialty Toy Retailing Association, and is launching its first educational K-8 math learning aid products for supplemental school and home education at the American International Toy Fair 2014 and the NSSEA Ed Expo 2014.