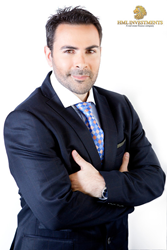 Los Angeles, California (PRWEB) February 08, 2016
HML Investments founder and owner, Yanni Raz, established the first live money show on Facebook, every Tuesday morning 8am. The show helps viewers succeed in business, investments and real estate.
Raz, a 13-years hard money lender and Real Estate Investor, has been motivating people for years with videos and talks that have motivated thousands of business professionals across the nation on his popular Facebook site. Topics include how to making money in business, achieving success, staying motivated, negotiating with clients, investing in Real Estate and living a powerful life. Raz provides his tip of the day on different channels such as Instagram, Twitter and Facebook.
Says Yanni: "My passion is to assist other business professionals across the nation and motivate them, so they will be able to experience success and fulfillment with what they do in life".
Scores of people find it hard to become entrepreneurs and then to sustain their passion for the business. Rejection is par the course. The work seems repetitive. Hours are long, clients may be problematic, and consistent selling is stressful.
Over his years of work in the field, Yanni realized that entrepreneurs need help with education and marketing.
On February second, Yanni launched "Millionaire Tuesday", a new live show that talks about success, motivation, real estate and other money making investments and opportunities. Raz interviews top leaders of these fields. Viewers can tune in and ask questions by posting a comment on the live stream. Yanni and his speakers correspond via video broadcasts. Viewers benefit from a direct 'give and take' with some of the most knowledgeable experts on the subjects.
Founded in 2004, HML Investments finances hard money loans in the Los Angeles County, Orange County, San Diego, Ventura County, and Bay Area. The company works with real estate investors and trust deed investors.
On Feb.1, he tweeted to his viewers: Do you really know what it takes to be a successful entrepreneur???
To those who don't, his "Millionaire Tuesday" gives the answers.
For more details, follow Yanni Raz on Facebook: http://www.facebook.com/yanniraz
On Instagram: http://www.Instagram.com/Yanniraz