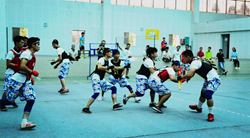 Kunfu Ball Becomes the Latest Addiction to the List of Original Team Sports
(PRWEB) December 09, 2016
Yaoxian Xie, after years of deep research and brainstorming, recently invented what could be named as the latest addition to the list of original team sports played around the world. The inventor has christened the new game as Kunfu Ball. The game, which is similar in character to both basketball and kungfu, is rapidly becoming popular in parts of China, especially in Naning, the capital of Guanxi, China, the birthplace of the game.
Yaoxian Xie claims that new game that he has invented is an entirely original sport, with some traits of basketball, kung-fu and wrestling present in it. He also added that people who are interested in team sport which is safe yet requires some amount of wrestling skills would like this game and the game has enough potential to become a popular team game worldwide.
Kunfu Ball is a hit-and-huddle game which requires basic skills of wrestling and martial art and great flexibility and agility as well. The player has to throw the ball or the flag into a specific target guarded by his and his team's opponents and at the same time, guard their side as well. Team members can be temporarily substituted on-field and benched players can also come back into the game in the next round. The final score will be counted after the times up, like in almost every other team sport.
"Kunfu Ball can have a large impact on the national character since the sport embraces the most primitive form of human expressions – snatching and standing someone's ground. The movements of the players also signify the national character of a team playing at international level. I think the martial movements which are incorporated into the game can play pivotal role in shaping the nation's ethos in a more positive way."
"Also, the game can be used in military training since it instills the courage to fight against the odds of life. It imparts very basic life skills like surviving without hurting anyone and can make a human being more upright and straightforward", said the inventor.
Yaoxian Xie also expressed hope that the sport, which has its roots in China, will become popular across the world, in the USA and elsewhere. "Anybody who is interested in this game can send me a mail to yaoxianxie12 at gmail dot com to know more", he added during the official launch of the team sport.
About the Company
Kunfu Ball is a newly invented team sport by Yaoxian Xie.
Watch players live in action here https://www.youtube.com/watch?v=qug8F6FAwVY&t=46s