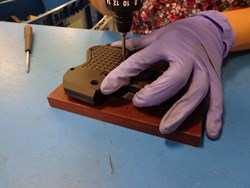 The inserts manufactured at Yardley Products' facility are one of the problem free components we use in our assembly...and that's always a great thing.
Yardley, PA (PRWEB) December 10, 2013
Yardley Products Corporation, a manufacturer of threaded metal insert fasteners, recently fulfilled an order of custom inserts to Azimuth Technology, a manufacturer who was contracted to fabricate a small tactical pocket pistol for their client, DoubleTap Defense. Azimuth Technology called on Yardley products seeking an insert capable of securely holding together the two pieces of the pistol's aluminum handle. When a standard Yardley Products insert did not provide the right fit, the insert manufacturer specially fabricated custom inserts based on the client's designs.
"Our Azimuth Technology engineers and personnel worked closely with Yardley Products to find the right solution to our fastening needs," said Len Zaiser of Azimuth Technology. "Even though Yardley Products' standard insert wasn't a perfect fit for our application, they continued to work alongside us and custom manufacture an insert designed by our own engineers." Azimuth Technology evaluated several options for the production of fasteners for their product design, and found that Yardley Products was an ideal fit for their special application.
The small tactical pocket pistol required 6 threaded metal inserts to securely fasten the right and left handle pieces together. Azimuth Technology contacted Yardley Products looking for a metal fastener with a 440 thread and insert recommendations. To accommodate the aluminum material of the handle and thread desired, Yardley Products recommended the pistol manufacturer test their standard stainless steel Quick-Serts inserts.
Yardley Products' Quick-Sert threaded metal fasteners are standard inserts designed for a pressed-in installation, constructed of stainless steel and commonly used for applications where constant usage causes threads in soft materials to break down.
Upon testing the standard inserts, Azimuth Technology found Yardley Products' Quick-Serts to be too large for their product's blueprint. Working closely with Yardley Products engineers, Azimuth.
Technology began designing a stainless steel fastener that would match their unique application needs. Once a final threaded insert had been designed, Yardley Products fulfilled the order and custom manufactured the unique inserts in-house.
"The inserts manufactured at Yardley Products' facility are one of the problem free components we use in our assembly," said Zaiser, "and that's always a great thing."
To learn more about Yardley Products' custom manufacturing capabilities, visit http://www.yardleyproducts.com/custom-manufacturing today. To request a free sample or quote for any Yardley Products threaded metal insert fastener, visit http://www.yardleyproducts.com/request-sample or call Yardley Products toll free at 800-457-0154.
###
About Yardley Products, Corp.
Yardley Products Corp., is a manufacturer of precision engineered threaded metal inserts for a wide range of fastening applications. Yardley inserts feature designs that "lock" them securely into plastic, metal or wood base materials. Inserts are available for a variety of installation methods including molded-in, pressed-in, threaded-in, thermal, and ultrasonic vibration. Yardley Products offers a large inventory of more than 24 million inserts, fast delivery, and provides insert design and custom manufacturing.
About Azimuth Technology, LLC
Azimuth Technology, LLC is an American manufacturer specializing in precision contract manufacturing for various industries including defense, aerospace, oil, gas, and more. The company employs experienced machinists, programmers, and quality experts to monitor the use of their advanced technologies, including CNC precision mills and lathes. To learn more about Azimuth Technology and their manufacturing capabilities, please visit the company's website at http://www.azimuthtechnology.com.