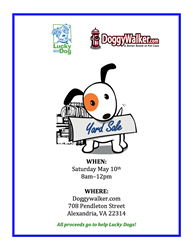 Alexandria, VA (PRWEB) May 07, 2014
Lucky Dog Animal Rescue (LDAR) and Doggywalker.com will be hosting their annual yard sale to benefit homeless animals on Saturday, May 10, from 8 a.m. to noon. The event will be held at 708 Pendleton St, Alexandria.
This fun day of shopping will feature lots of items for your pet along with the usual yard sale finds. All proceeds from this event will help LDAR continue to provide critical services that allow them to help animals that would otherwise have no hope.
"Last year's yard sale was extremely successful and helped us in furthering our mission to rescue animals who are were sitting on death row" said Mirah Horowitz, founder and executive director of LDAR. "We hope that this year's event will be even more of a success and we can keep adding to the over 6,000 pets LDAR has saved since we started five years ago."
If you cannot attend the event but have household items to donate, please contact kristenk(at)luckydoganimalrescue(dot)org.
To adopt a Lucky Dog or Cat or to volunteer or become a foster, visit http://www.luckydoganimalrescue.org.
About Lucky Dog Animal Rescue
Lucky Dog Animal Rescue is non-profit animal rescue organization dedicated to saving the lives of homeless animals in high-kill shelters and educating the community on responsible pet ownership. Lucky Dog Animal Rescue relies on a network of volunteers and fosters to facilitate adoptions and provide temporary homes for the dogs and cats available for adoption. Most Lucky Dogs are rescued from high-kill shelters in Virginia, West Virginia, North and South Carolina, and Puerto Rico. Once rescued, the Lucky Dogs live in home through the Washington, DC metro area, including Maryland and Virginia. To learn more about Lucky Dog Animal Rescue and to view the animals awaiting their forever-homes, please visit http://www.luckydoganimalrescue.org.
About Doggywalker.com
Founded in 1999, Doggywalker.com now serves over 1,000 pets and owners in Alexandria and Arlington, Virginia. Their dog walking and pet sitting staff are lifelong pet owners, animal lovers, and experienced animal care providers who help their clients pet(s) maintain a normal routine in their home environment. Doggywalker.com is a licensed, bonded, and insured dog walking and pet sitting company. They are also a member of the National Association of Professional Pet Sitters (NAPPS).
Their mission is to treat your pet(s) and home with the love, care and respect they would use to treat their own. They believe in nurturing pets in their home environment and helping them follow a consistent and reliable schedule.