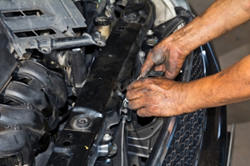 We are now supporting the smaller, fuel-efficient vehicles that are being produced by Toyota for the American market
Detroit, MI (PRWEB) July 21, 2015
The Yaris is one of the late model vehicles from the Toyota company that will now be supported with used condition parts courtesy of the Got Engines company online. Consumers can now place orders for preowned Toyota Yaris 1.5L engines. More details about the 4-cylinder builds available can be found at http://www.gotengines.com/blog/toyota/yaris-15l-engine.
The acquisition of new compact car inventory this year has helped the Got Engines company to grow its foreign parts division. The sales of the 1.2L edition Yaris motors that have been ongoing since the year 2010 has helped build the foundation for acquiring the 1.5-liter models that can now be purchased at an equally affordable price.
"We are now supporting the smaller, fuel-efficient vehicles that are being produced by Toyota for the American market," said one sales specialist at the Got Engines company.
Because existing mileage and wear and tear are two concerns that buyers of replacement motors can have, new warranty terms are now in effect for the acquired Toyota motor blocks now listed for sale. Consumers will be provided with the option to activate the specialized protection plans during the checkout procedure.
"The warranty control process that we have enabled has allowed us to expand on OEM coverage periods to help people get more usage out of a used vehicle motor," said the sales specialist.
The Got Engines company is now in the process of creating a better support system through its website. Consumers with an interest to buy any of the replacement blocks available will soon be able to access a new FAQ section on the homepage that will present answers to common questions.
About GotEngines.com
The GotEngines.com company provides the web resources that American consumers need to explore or purchase used condition vehicle motors on the Internet. The company has created a new portal that allows ordering in real time. The GotEngines.com company continues to maintain its offline support services and has added more employees to its team in 2015.