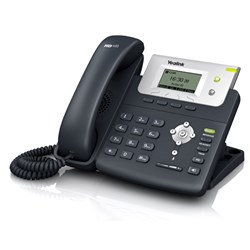 "The one line SIP-T19P and two line SIP-T21P from Yealink are perfect for basic VoIP needs but customers will be pleasantly surprised by the features they offer that are normally found on higher end models." - Tom Costelloe, VoIP Supply Marketing Manager
Buffalo, NY (PRWEB) November 01, 2013
VoIP Supply, North America's leading supplier of VoIP equipment, is announcing the availability of two new Yealink VoIP Phones.
The Yealink SIP-T19P and the Yealink SIP-T21P phones are priced for budget-minded enterprise applications but are different from typical low-cost solutions.
These sturdy Yealink phones offer users a quality experience from the fit and finish of the choice materials to the functionality of the sharp, informative LCD screen and advanced features.
Suppports 1 x VoIP Line
Dual 10/100 Ethernet Ports
Power over Ethernet (PoE)
IPv6 and SRTP/ HTTPS/ TLS, VLAN and Quality of Service (QoS)
Supports Headset Use and is Wall-Mountable
Supports 2 x VoIP Lines
HD Voice including HD Codec, HD speaker, and HD handset
Dual 10/100 Ethernet Ports
Power over Ethernet (PoE)
IPv6, Open VPN, and a Redundancy Server. Also operates with SRTP/ HTTPS/ TLS, 802.1x.
"Yealink phones are a great value," said Tom Costelloe, VoIP Supply's Online Marketing Manager. "The one line SIP-T19P and two line SIP-T21P from Yealink are perfect for basic VoIP needs but, customers will be pleasantly surprised by the features they offer that are normally found on higher end models."
For more information about Yealink phones talk to a friendly VoIP Supply representative today by calling 800-398-8647 or, visit http://www.voipsupply.com/manufacturer/yealink.
About VoIP Supply
We are a place of uncovering, cultivating and developing leaders. A world class place to work with big goals, a clear vision, defined purpose and a dedicated team of passionate business professionals. We love what we do and do it better than any of our competition.
Since 2002, VoIP Supply has been the leading supplier of VoIP equipment and complete VoIP solutions in North America. We are known in the industry as responsive and knowledgeable VoIP product experts.
With everything you need for VoIP, VoIP Supply has grown rapidly throughout the years. VoIP Supply is a three-time Inc. 500/5000 honoree, listed by Business First as one of WNY's Most Admired Companies, as well as one of Western New York's Best Places to Work for many consecutive years, including 2012. VoIP Supply is also the first Certified B Corporation in Western New York.